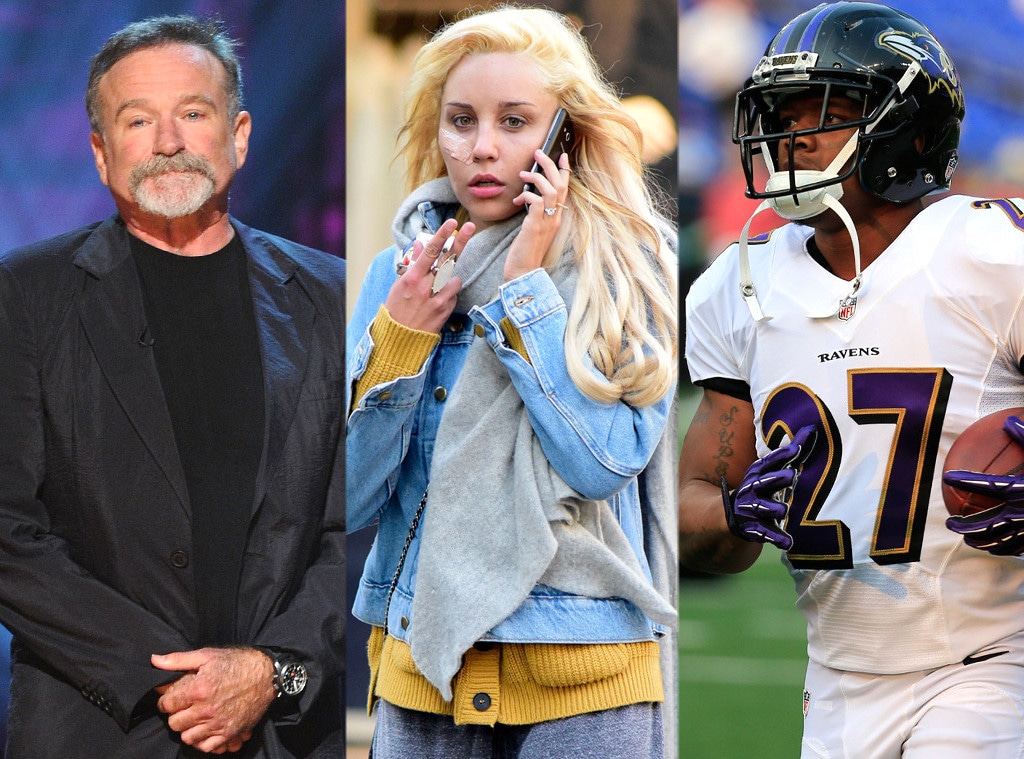 Rob Carr/Getty Images, Splash News, Jason Kempin/Getty Images
Halloween is not for another 11 days, but we all know that Halloween parties can happen at any time between Oct. 1 and Nov. 1. That's just how this holiday rolls.
So if you are planning on hitting up a Halloween bash, please remember that offensive, inappropriate "too soon" costumes will not make you cool. They will make you the guy at the party that no one really wants to be seen talking to. And then your photo ends up on the Internet and suddenly people are harassing you on Twitter. If it is your sole mission to get a rise out of people and elicit disgusted looks all night, then we can't stop you. But we can warn you.
Trust us, if you dress up as any of these for Halloween, there will be backlash. That's as sure to happen as Taylor Swift selling over a million albums in her first week of release.
1. Ray Rice
Especially if you are going to drag a woman dummy around like this guy.
2. Zombie Robin Williams
Mike Coppola/Getty Images
We lost one of the greatest actors and comedians of all time. Have some respect. If you are celebrating gone of his characters, by all means, we'd love to see a bunch of Mrs. Doubtfires getting together at a party. But Zombie Mrs. Doubtfires? Get the hell out.
3. Ebola Patient
CELLOU BINANI/AFP/Getty Images
Thousands of people dying does not an appropriate costume make.
4. Missing Nigerian Girls
MacJohn Akende/Anadolu Agency/Getty Images
This is the worst group costume of all time so just don't.
Astrid Stawiarz/Getty Images for NYLON
What used to be a funny costume is now just cruel given the fact that she's obviously very mentally ill and needs serious help. Resist the urge to be Bynes this year.
6. Donald Sterling
Ronald Martinez/Getty Images
Because we can only assume you'll be hurling racial slurs all night.
7. Aunt Jemima
Paul Taggart/Bloomberg via Getty Images
She made headlines recently because of the lawsuit filed by her heirs, but if you have to put on blackface for this costume, just stop. In fact, if you have use blackface for any costume you have in mind, STOP.
8. Any Slutty Disney Costume
Actually, any costume that pertains to that tragedy should be a no-go this year.
10. Oscar Pistorius 
Alon Skuy/The Times/Gallo Image/Getty Images
Specifically if your costume references the recent trial for the murder of his girlfriend.
11. Stephen Collins
Michael Loccisano/FilmMagic
Why would you want to go as a piece of s--t?
12. Adrian Peterson Carrying a Switch
Harry Engels/Getty Images
The NFL is inspiring way too many terrible costume ideas this year.
13. Darren Wilson and/or Michael Brown
Unfortunately, we can almost guarantee a couple or bros will think this costume idea is hilarious.
14. Zombie Joan Rivers
Michael Stewart/WireImage
Again, we lost a great comedian this year so don't make your costume "Dead Joan Rivers." Make your costume "Iconic Joan Rivers." She deserves that.
15. Naked Jennifer Lawrence
Vittorio Zunino Celotto/Getty Images
Or anything related to the nude celeb photo theft that happened this year. An invasion of privacy is not funny.
16. War Machine
He beat his girlfriend almost to death and is facing life in prison, so if you see someone dressed as him for Halloween, feel free to throw him out of the party.
17. Dead Philip Seymour Hoffman
For some reason people tend to target celebs who overdose to use as inappropriate Halloween costumes, meaning someone will go as Hoffman with a needle in his arm or something. And that's actually disgusting. 
18. Tracy Morgan and the Walmart truck driver
Gary Gershoff/Getty Images
Did you forget a man died in this terrible accident and Tracy may never walk again? Not grounds for a successful Halloween costume in the least.
Remember kids: There are plenty of costumes that are both topical and funny for you to use this year. Halloween is meant to be fun, not offensive and cringe-worthy. So don't be that guy at the party.