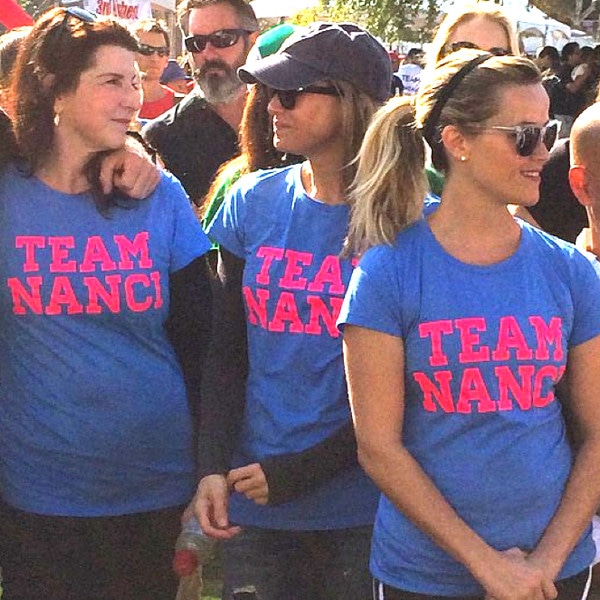 Instagram/Marc Malkin
Reese Witherspoon and Renee Zellweger had a very personal reason to participate in today's ALS Walk in downtown Los Angeles.
Their longtime personal publicist, Hollywood powerhouse Nanci Ryder, was diagnosed with the horrific disease about two months ago just as the now famous Ice Bucket Challenge was launched.
"It was devastating," Witherspoon said about hearing the news. "We just cried and cried and then said, 'What are we going to do to get busy to change things?'"
ALS (also known as Lou Gehrig's Disease) is a fatal progressive neurodegenerative disease that affects nerve cells in the brain and the spinal cord. Average life expectancy of a person with ALS averages two to five years from diagnosis. About 30,000 Americans are living with ALS at any given time.
"I didn't know there's no cure for it and no medications to temper it for an extended period of time," Zellweger said. "There are no real treatment options. Nothing."
Ryder who is also a breast cancer survivor, was at the walk today. You wouldn't know anything was wrong by just looking at her. However, when she talks, words come out slowly and slurred.
"I want to create awareness for this disease," she told me. "I went through a down phase but you cannot fight when you're down so I adjusted that. You can't give up. You have to fight."
Zellweger was with Ryder when, after seven months of medical tests, she was told by a doctor at Massachusetts General Hospital in Boston that she had ALS. "It was a shock," the Chicago star said. "But she's handling it with grace. She faces everything with a humor, lifts the spirits of everybody around her. She's changed her focus to look outward and to see how her life experiences may benefit other people."
"I'm here to help whatever comes her way," Witherspoon said. "We really don't know what's next but we're here for her no matter what."
Not only were there dozens of past and present employees from Ryder's firm BWR at the walk wearing "Team Nanci" t-shirts, but there were also publicists from other companies, agents like CAA bosses Kevin Huvane and Bryan Lourd, and more celebrities, including Emmy Rossum, Katherine McPhee, Roseanna Arquette, Rose McGowan and Mae Whitman.
"I'm overwhelmed," Ryder said. "I feel so loved. I think we tend not to appreciate that, but now I really do."
To learn more about ALS, go to alsagoldenwest.org.