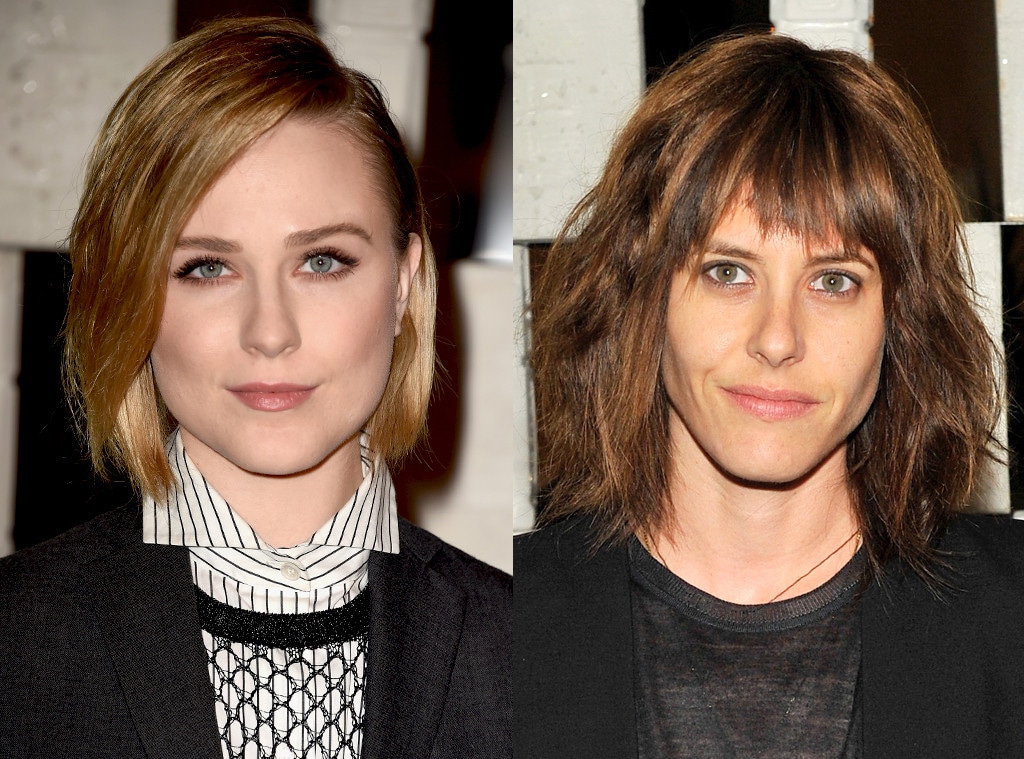 Getty Images
Evan Rachel Wood is moving on following her split from husband Jamie Bell and has a new special person in her life!
The 27-year-old The Wrestler actress and True Blood alum is dating Katherine Moennig, who starred on The L Word and currently appears on Ray Donovan, E! News has learned exclusively. The actresses' reps had no immediate comment.
A source told E! News that Wood and Moennig, 36, have been going out for at least two months.
"They're really into each other," the source said. "It seems like something that may last awhile."
Last week, the two were spotted holding hands at the Hammer Museum's 12th Annual Gala at the Garden (pictured above, posing separately at the arrivals area), E! News has confirmed. The event was attended by many celebrities, including Demi Moore, Kate Bosworth, Jim Carrey, Jane Lynch and Orlando Bloom, and took place near Lost Angeles.
Wood made headlines in 2011 when she revealed in an interview with Esquire magazine that she is bisexual. News about her and Moennig comes more than four months after it was revealed she and Bell had split. The two are parents to a 1-year-old son. They met on the set of the 2004 Green Day music video "Wake Me Up When September Ends" and dated for about two years.
She then began a relationship with shock rocker (who's now a Sons of Anarchy recurring star) Marilyn Manson. They were engaged for several months before breaking up in August 2010. Wood and Bell later got back together and wed in October 2012.
Moennig played Shane McCutcheon on The L Word, Showtime's hit LGBT drama series that aired from 2004 to 2009. She currently plays Lena on Ray Donovan, which also airs on the premium cable channel.
Wood and Moennig, 36, had exchanged several tweets last year.
"Just saw @katemoennig at a flea market," Wood said on her Twitter page in February 2013. "I turned to mush and ran. Love her!!"
"@evanrachelwood you should have said hi. :)" the actress replied.
"Haha. I would have slurred my words," Wood said. "Next time. But yea, you are amazing. Helped me realize who i am. Big fan ;) @katemoennig"
"@evanrachelwood many many thank you's. what a lovely thing to hear," Moennig said. "And the fanship is mutual."
The following June, she tweeted, "I had a dream @katemoennig and I were stuck in a cab together for hours during pride in NY. We just fell asleep though."
"Ha!" Moennig replied.
A month later, they chatted about the reality show Deadliest Catch.
"Waited for 2 weeks to see the hand accident on DEADLIEST CATCH," Moennig said. "The outcome was lame."
"Really!? I have been waiting too! Looked gnarly. @katemoennig," Wood replied.
"@evanrachelwood It was total bulls--t," Moennig said.
During an exchange with another Twitter user, Wood also praised Moennig about her Ray Donavan performances.
5 min into #raydonovan and I have already seen a priest get murdered and a dead girls boobs. What just happened?

? Evan Rachel Wood (@evanrachelwood) July 2, 2013