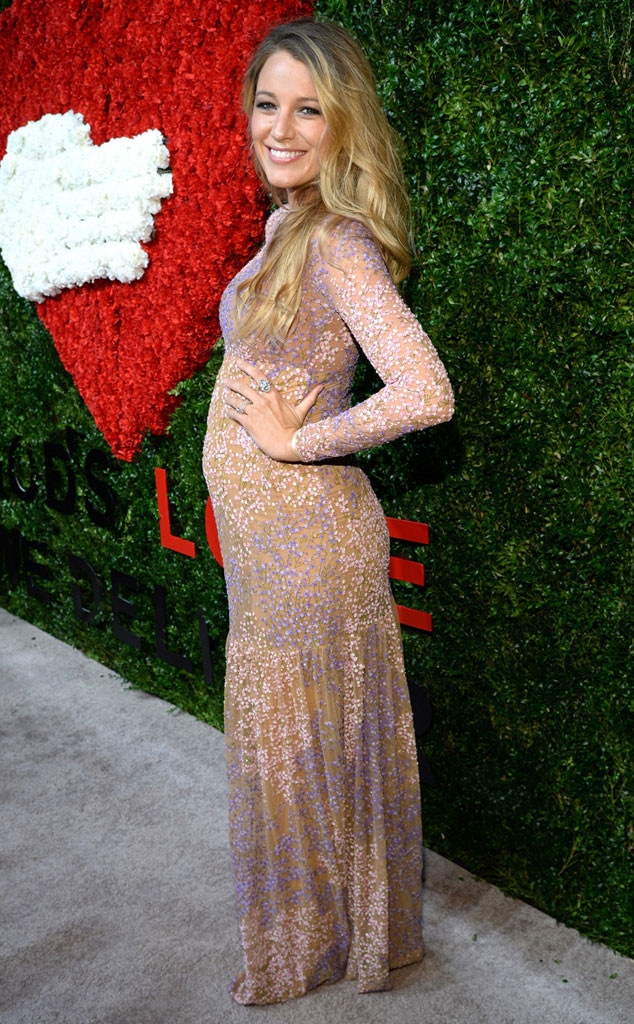 Kevin Mazur/Getty Images for Michael Kors
So, can we assume that this dress will also be selling out in the next few days?
Blake Lively's baby bump made its red carpet debut tonight when the pregnant star arrived at the God's Love We Deliver 2014 Golden Heart Awards in New York City, and just as you may have expected, Ryan Reynold's lady is absolutely glowing.
The actress showed off her newly famous curve in an oleander and lilac embroidered stretch tulle gown from the Michael Kors Resort 2015 collection, and kept her makeup minimal and blond tresses down and tousled. And when she stopped to chat with E! News' Alicia Quarles, Lively admitted that although she has a jam-packed schedule already, she's not too nervous about adding a baby to the mix.
"I came from a big family...a big family of Southerners," Blake tells us. "I feel like I've always sorta…I'm the youngest of five, so I never raised any siblings below me, but I'm always the person who's taking everyone else's kid and putting them on my hip, so I've kinda always been a mama. So we'll see."
Watch:
Blake Lively Has 'Always Been a Mama'
The actress and entrepreneur revealed she's pregnant with her first child via her website Preserve earlier this month.
In a photo taken by her brother, Eric Lively, the actress cradled her very visible baby bump. This will be the first child for Blake and her husband, who met on the 2010 set of The Green Lantern and surprised friends, family and fans by marrying in September 2012 with a super-secret ceremony.
"Preserve at its core is about family. 'Family' is the single word our founder Blake built this home on," the website's editorial team wrote Monday. "We have something for men, for women, for the old, but we realized, we don't have anything for the new. With family on our mind, we looked to the origin of it all—to the women in our lives who are right there, at that special moment; at the creation of family."
"Today we celebrate them. With food to fill their tummies (as if that needs more filling), presents to soothe their tired (and swollen) soles, toys to warm their baby's souls, projects to provoke them, and decorations to inspire creativity and merriment in all," the team wrote in the photo-heavy post.
"We had too much fun with this. Because there's so much to share, we break up our first ever Preserve Celebration into multiple parts. In the upcoming days we will bring even more treats and fun. The entire next month will be sprinkled with highlights for women in this exciting chapter of their lives. Congratulations to all the expecting mothers out there. And thank you for being a part of our Preserve family."