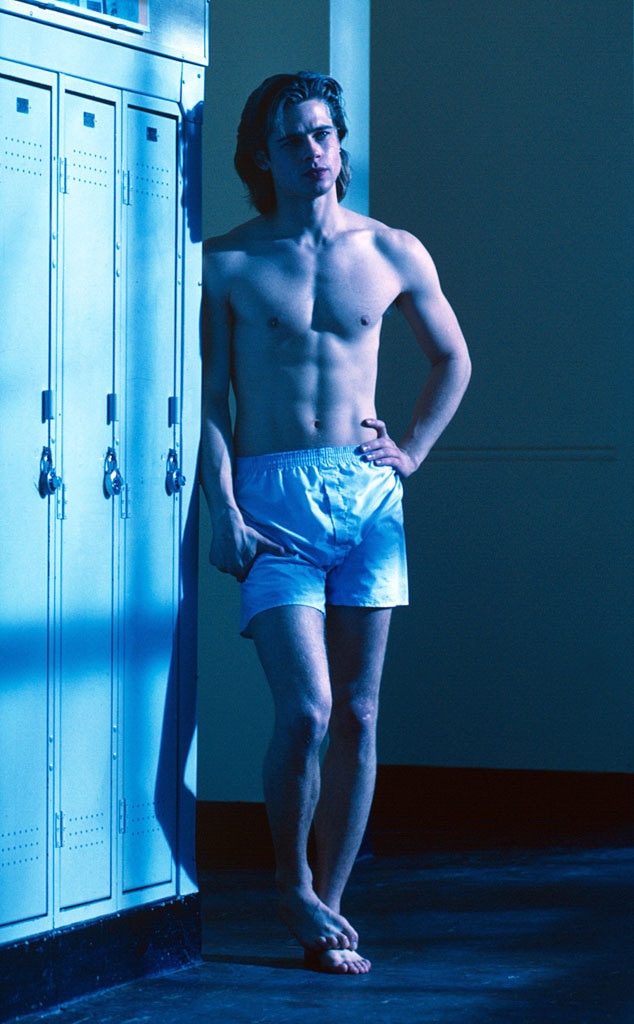 ABC Photo Archives/ABC via Getty Images
Hello there, handsome and young Brad Pitt!
Yes, this is a picture of Angelina Jolie's future hubby, shirtless and wearing only his boxers, from 1989. As much as we'd love to say this blue-tinted locker room shot was one from Brad's personal collection, it's not. It's actually a still from a dream sequence of The Kids Are All Right, an ABC pilot that didn't quite make it off the ground.
Brad, then aged 25, played one of four friends in the drama, which followed them as the experienced the ups and downs of growing up. In true, late-'80s fashion, his character had a pieced ear and wore a fedora, leather on denim, what appears to be a hunter green crew neck sweatshirt, and a silver medallion at the end of his long black cord necklace.
ABC Photo Archives/ABC via Getty Images
Of course, this was a few years before Brad's 1991 breakout role in Thelma & Louise. Even with that, though, he didn't feel that he'd hit his stride yet. The now 50-year-old actor told the New York Times that still in the mid-'90s, he felt "things starting to exceed my control," explaining, "You have a lot of voices telling you what you should be doing."
David Fincher's Seven, released in 1995, was "the first film where I recognized the feeling of when things are clicking," Brad said. Even so, he "hid out a lot" in his early years in Hollywood, he said, before giving way to a realization that "artists can have brands and sell things."
"I was uncomfortable with the focus," he told the New York Times. "But there are a lot of nice things that can be doing with it, and I accept it. It's part of our business."
These days, Brad isn't bothered in the slightest by his life playing out in the public eye. Because, as he told Details' November 2014 issue, "My soul was stolen by the camera so long ago, I don't have to think about it anymore."