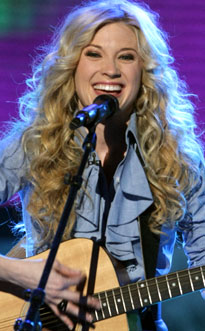 Frank Micelotta / FOX
For Brooke White, being on American Idol was an emotional experience. And leaving it was "kind of a relief."
"I think after Tuesday night I was ready [to go on]," White told reporters today. "Then I woke up Wednesday morning, and I knew: Brooke, you're going home."
White met her end in Neil Diamond week, and after two performances, one of which was deigned a "nightmare" by judge Simon Cowell. She placed fifth overall.
"I've been packed for two weeks," White admitted.
It was last week that White committed a historic Idol gaffe, stopping and restarting her rendition of "You Must Love Me," because she "lost the lyric." But Carly Smithson, not White, took the fall on results show night.
White was asked whether she had survivor's guilt about the turn of events.