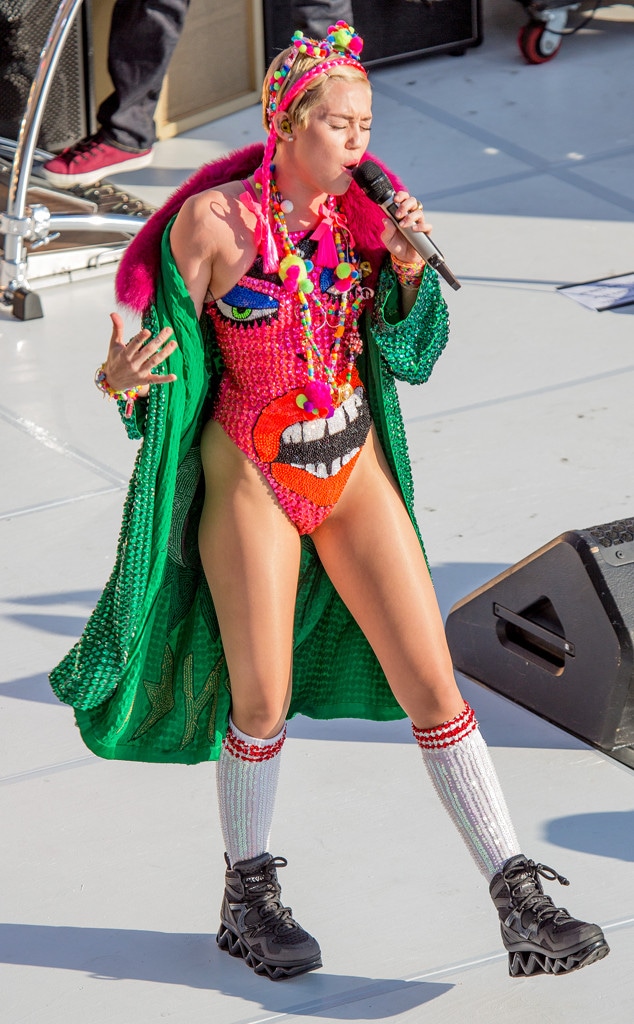 INFphoto.com
Miley Cyrus got up at the crack of dawn to join hundreds of her fans in a concert outside of the legendary Sydney Opera House earlier today in Australia.
The singer belted out "Wrecking Ball" along with several other hits from her Bangerz album and opened up to the co-hosts of Down Under's morning show Sunrise about the public's perception of her.
When asked why she's so "chill" compared to, well, some other pop stars, Cyrus had one solid explanation.
"I just kind of grew up in this world, so fame and money, I kind of know what they give you, which isn't a lot…even though people think it's kind of everything."
She also shared how she made a decision to change her outlook on life, which has transformed both her personal life and career.
"I just decided, about a year ago, that my whole life goal was just to be happy all the time," she told the morning news show before explaining how staying true to herself has helped her stay grounded. 
"It doesn't really bother me when people tell me I'm crazy, because I am…If I wasn't here [performing] I would think that I would like to do some sort of standup comedy….Look at me, I am a walking joke."
And pointing to her multicolored outfit and hair, Cyrus poked fun at herself and admitted that she never takes things too seriously.
"That just seems so disingenuine. I'm too honest, I'm too myself."
Speaking of being perhaps too open…the crooner's BFF and travel buddy Cheyne Thomas shared how Cyrus woke up this weekend on Instagram.
"Sleeping biettyyy," he wrote next to a photo of her completely pantless, mooning the camera.