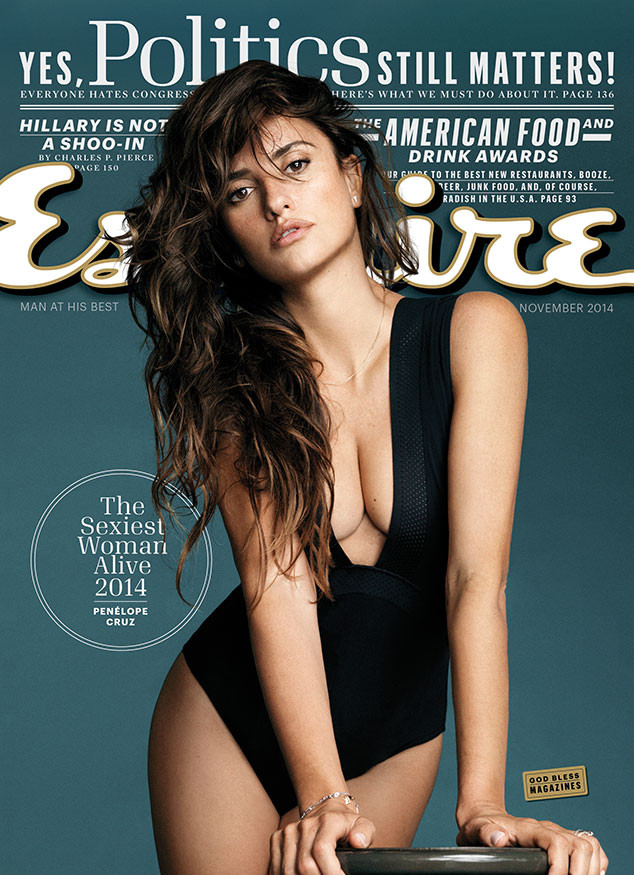 Nico
Penélope Cruz is Esquire's "sexiest woman alive."
The Pirates of the Caribbean: On Stranger Tides actress is the 10th woman to earn the title, following Angelina Jolie (2004), Jessica Biel (2005), Scarlett Johansson (2007 and 2013), Charlize Theron (2007), Halle Berry (2008), Kate Beckinsale (2009), Minka Kelly (2010), Rihanna (2011) and Mila Kunis (2012). Cruz looks sultry wearing a plunging one-piece swimsuit on the cover, proving she's worthy of the title.
Describing Cruz's obvious beauty, profiler Chris Jones writes, "has no physical flaws...Her face contains no secrets, at least not about her. But her face tells you and the room plenty about you. If you want to feel like the world's most judged man, sit down at a table in a restaurant with the Sexiest Woman Alive."
Being hailed the "sexiest woman alive" is an honor for Cruz, who says she was once known as "drama queen." As the actress explains in the magazine's November issue, "I've played a lot of tricks on myself. I've made it hard for me sometimes, especially in my teens and 20s. I had an attraction to drama. Most of us have that, especially if you are an artist—you feel like you are tempted to explore the darkness."