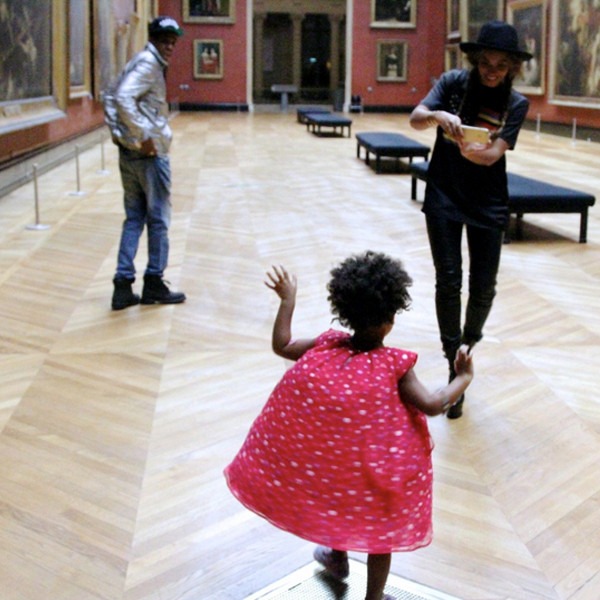 beyonce.com
Step aside Beyoncé and Jay Z. Baby Blue Ivy Carter is the next big artist!
With a little more free time on their hands, the talented Hollywood couple continued their vacation in Paris by visiting the Louvre with their daughter.
In new pictures just released on Beyoncé's website, the family explores a variety of paintings, statues and other artistic elements featured in the iconic museum.
During their private visit, Blue Ivy showed her interest in the arts by grabbing mom's camera to snap a few special images. Queen Bey also couldn't help but capture her daughter as she walked around the venue in a gorgeous, polka-dot pink dress.
The "Single Ladies" singer even took time to snap a selfie in front of a memorable work of art. Is it just us, or is the statue taking a selfie too?
Ever since Beyoncé and Jay Z wrapped up their sold-out tour, the couple has been focusing on family and spending time together as a unit.
In recent weeks, the twosome caught up with close pal David Beckham at the Paris Saint-Germain F.C. and Barcelona F.C soccer match.
The married duo also shared precious moments with their baby including a snapshot of Beyoncé on the swings next to her daughter.
So what's next for the power couple?
There's still speculation that the twosome could be combining their talents once again for a "huge" album.
Dash Radio's DJ Skee recently broke the news on-air after getting word on the collaboration from sources close to Bey and Jay's camp, adding that the album is set to be released in late 2014 or early 2015.
Oh, how we hope this news will be true!