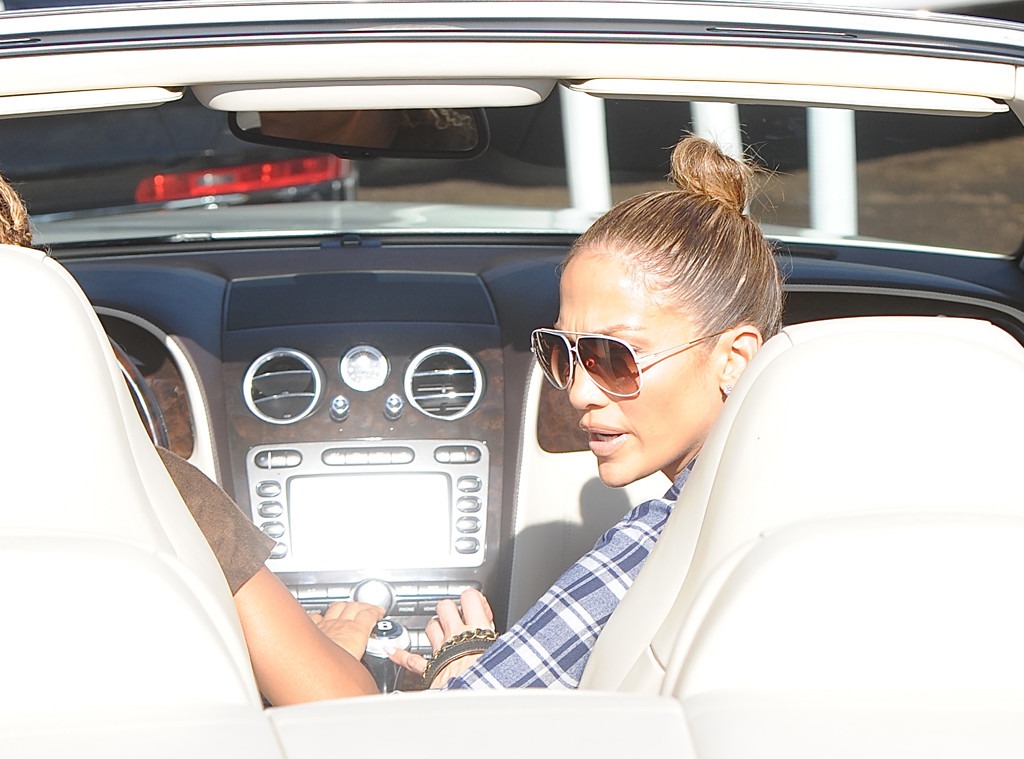 Splash News
Now this is how Jennifer Lopez rolls!
The "Booty" singer had quite the weekend as she treated her twins, Emme and Max, to an afternoon at Mr. Bones Pumpkin Patch in West Hollywood, Calif.
Joined by her longtime manager Benny Medina, Lopez arrived in style as a white Bentley convertible driven by a chauffeur pulled up to the celeb-friendly grounds. Jessica Alba, Harry Styles and Fergie have all been spotted there in recent days.
Wearing ripped white jeans, a plaid button-down and wedge sneakers, Lopez was channeling her inner farm girl as her kids rode on slides and picked the perfect pumpkin.
The "Jenny From the Block" singer's hot ride comes after her SUV was involved in a car accident on Pacific Coast Highway in Malibu, Calif., this past summer.
According to police, the vehicle was rear-ended by a man driving a small pickup truck.
"Sitting at a light, riding high right before some drunk fool rear ended us in my new whip!!!" Lopez said on Instagram. "Thank god everyone ok!!! #GRATEFUL #THANKYOUGOD #DontdrinkandDrive!!!! #cursedthatfoolout #theBronxcameout #dontmesswithmycocnuts #mamabear #leahstayedcalm #thatwasweird."
Lopez's weekend, however, wasn't all about pumpkins and flashy cars. Turns out the singer was also working on her fitness with Tracy Anderson.
The celebrity trainer posted a video to Instagram that showed Lopez doing some ab training in the gym. Meanwhile, Anderson found herself a little bit distracted during the session. "I'm gonna lose my job over this brilliant book @LenaDunham @Jlo #JLotookmybook #Backtowork #notthatkindofgirl," she captioned the video.
Luckily, Lopez was able to find some time to relax this weekend. On Saturday night, the 45-year-old put her feet up and watched ex-fiancé Ben Affleck's new movie.
"Feet up…movie night!!! #GoneGirl," the singer wrote on Twitter. Hey Affleck, guess you know who to thank for making your movie number one at the box office for the second week in a row.