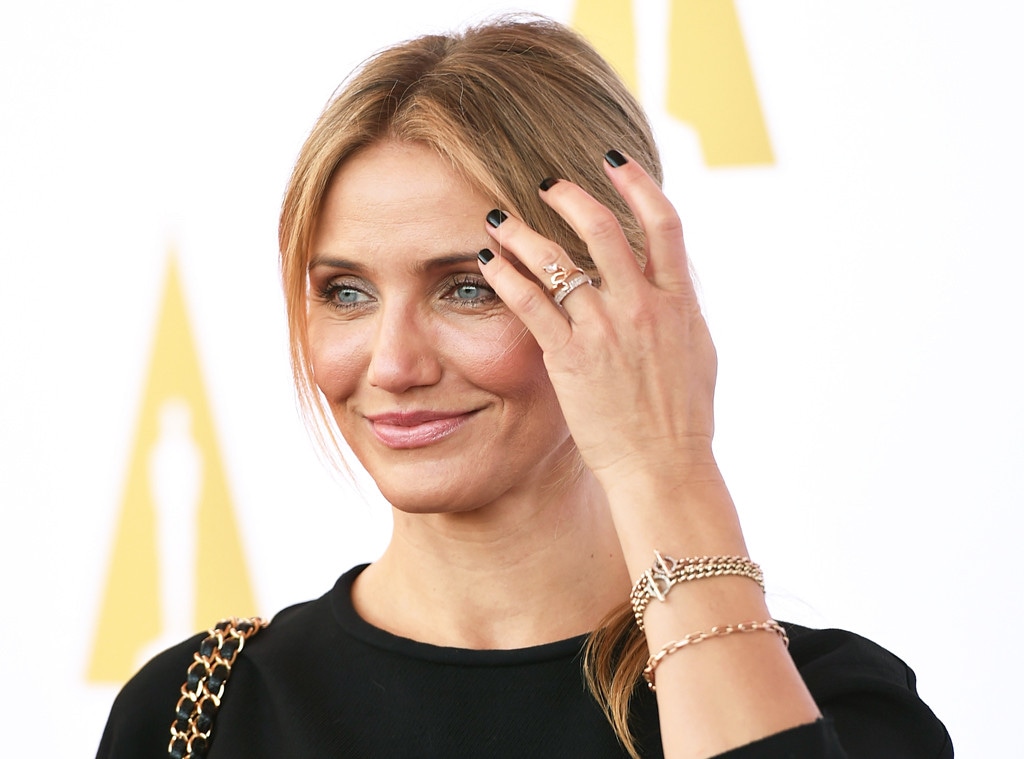 ROBYN BECK/AFP/Getty Images
Is Cameron Diaz ready to tie the knot?
The 42-year-old actress is sporting some curious new bling that has sparked speculation that she and boyfriend Benji Madden may be engaged. The two have not commented.
Diaz sported a gold ring with a thing band and sparkling stone set in a swirly setting on her ring finger at a recent luncheon celebrating a Hollywood Costume exhibition at the Wilshire May Company Building, the future site of the Academy Museum Of Motion Pictures in Los Angeles.
In July, a source told E! News that Diaz and Benji were "openly acknowledging to friends that they see a long future together, and yes, marriage may be a part of that plan."
Or perhaps the big day has already occurred? Diaz wore her ring above what appears to be an eternity band, a common choice among women for wedding rings.
ROBYN BECK/AFP/Getty Images
Diaz was, however, also spotted wearing a thick yellow gold band on the same finger by itself at several events in early September in Germany and London to promote her comedy with Jason Segel, Sex Tape.
Target Presse Agentur Gmbh/WireImage
Stuart C. Wilson/Getty Images
Diaz, who has no children, has talked in the press about her views regarding marriage and motherhood and society pressures regarding both.
"I thought I was going to be married and have two children by the time I was 21," Diaz, a former model, told Redbook in 2012, referring to the age she was when she filmed The Mask, in which she starred opposite Jim Carrey as sexy Tina Carlyle, her breakout role.
"I think I felt I had to model my life after my mother's," said the actress, the daughter of an import-export agent and oil company foreman. "But then my career was starting to take off and there were still so many things I wanted to do."