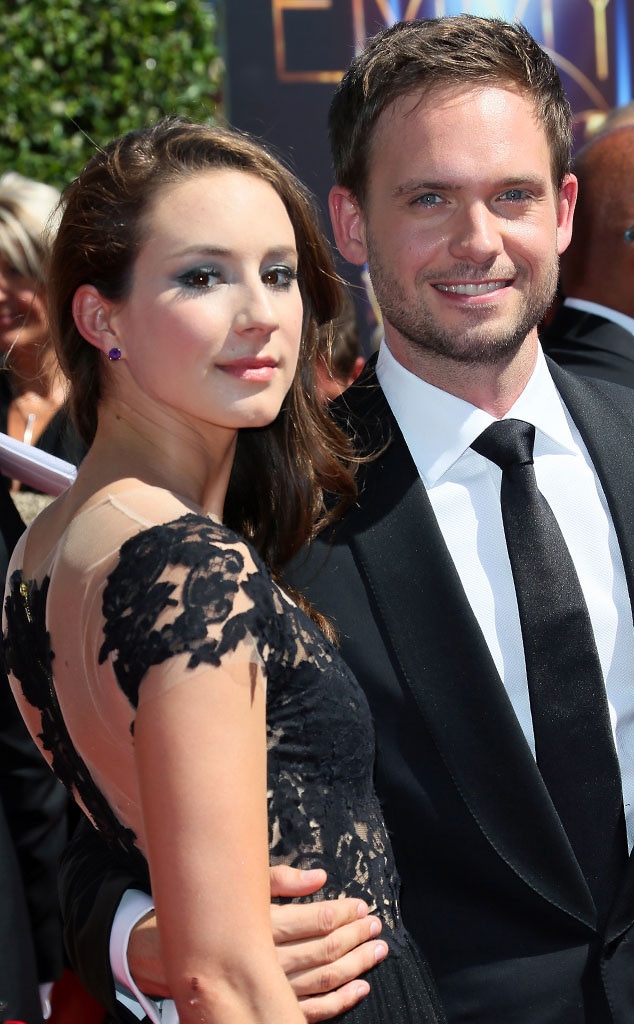 David Livingston/Getty Images
Spencer is leaving Rosewood for New York City!
Pretty Little Liars' Troian Bellisario is set to guest star on her fiancé Patrick J. Adams' legal drama Suits, E! News has exclusively learned. 
Bellisario is set to take on the role of Claire, a blast from Mike's (Adams) past when the USA Network hit returns for the second half of its fourth season in early 2015.
An idealistic law student and a volunteer at a social services law clinic, Claire and Mike will meet in a flashback to his days as a bike messenger. While they soon begin dating, things will get complicated when Mike tries to help Claire with one of her cases, and the result will ultimately cause him to question the trajectory of his life. 
E! News chatted with Bellsario, 28, about teaming up professionally with Adams, 33, who actually appeared on Pretty Little Liars a few years ago after the duo met co-starring in the play Equivocation in 2009. 
"Aaron [Korsh, Suits' creator] has always kind of joked about how much he wants to have me on the show, and I was always like, 'Well, write me a role, because it's kind of up to you.' For me, it kind of became like a joke, like, 'Yeah, when I do my guest role on Suits,'" Bellisario says of how her guest appearance came to be. "It was kind of a funny thing where I was like, 'Oh, I guess I'll be the new fax girl, or I'll be like, the pizza delivery boy.' It just became kind of a joke, like, 'When am I going to show up in Suits?' Then Patrick called me, and was like, 'Actually, Aaron wrote this role he really wants you to play,' and I was like, 'Oh really, so it's happening? OK.' So then it happened, and it was working out our crazy schedules and they were really accommodating, so I'm gonna do it!"
With PLL filming in Los Angeles and Suits shooting in Toronto, Bellisario is only set to appear in one episode of the legal drama. "It is just one episode right now, but I hope it could be more," she says. "The funny thing is that we booth shoot at the same time, so it's a little tricky, scheduling-wise, to get more than that."
For now, Claire will strictly remain in Mike's past. "It is right now just in flashback, but that's kind of what I'm so excited about because New York's a small city; you bump into people that you used to know all the time, so it could be more than just a flashback." 
And after visiting the Toronto set for the last four years, Bellisario tells us she's excited to start working with the Suits cast and crew. "Everybody on it kind of like an extended family, so to be able to now get to go join that in some work environment is just a really fun thing. I'm really looking forward to it and really excited to be working with such a great group of people."
Dimitrios Kambouris/Getty Images for Entertainment Weekly
Because their busy schedules, Bellisario and Adams have yet to start planning their wedding after getting engaged in January 2014.
"We're shooting two television shows so we're pretty busy," Bellisario explains. "Right now my plan is to sleep. Both of our plans is just to sleep for a very long time. We also have a lot of other stuff in our careers that we need to be focusing on. Right now, I'm just excited to be in the same city. That's one of the best parts about being offered a role on Suits is I was like, 'Wow, you're going to like, actually give me a reason to go be in Toronto for a couple of days and spend some time around each other? Like, 100 percent I'm going!'"
Suits returns for its fourth season in early 2015.
—Reporting by Lauren Piester