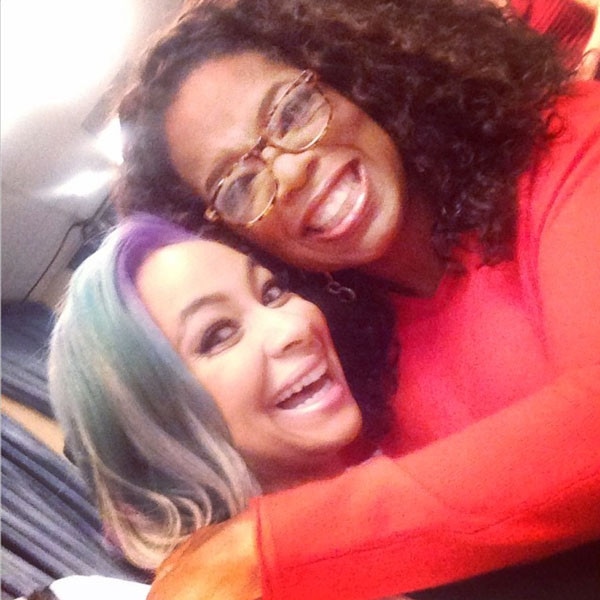 Instagram
The only thing Raven-Symoné dislikes more than being labeled is being misquoted.
During a recent interview with Oprah Winfrey for OWN's Where Are They Now?, the College Road Trip star said she was sick of "being labeled," particularly in regard to her sexual orientation and her race. "I'm an American," the actress told a shocked Winfrey. "I'm not an African American; I'm an American."
"Oh, girl," Winfrey said. "Don't set up Twitter on fire...Oh, my lord. What did you just say?" The actress replied, "I mean, I don't know where my roots go to. I don't know how far back they go...I don't know what country in Africa I'm from, but I do know that my roots are in Louisiana. I'm an American. And that's a colorless person." Winfrey feared Raven would "get a lot of flak" for saying she's not African American, but the actress said, "I have darker skin. I have a nice, interesting grade of hair. I connect with Caucasian. I connect with Asian. I connect with Black. I connect with Indian. I connect with each culture."
As Winfrey predicted, Raven's comments were met with ire. Many people took them out of context, and on Wednesday, the 28-year-old star of Disney Channel's That's So Raven clarified what she told the host.
"I never said I wasn't black," the star told E! News in a statement. "I want to make that very clear. I said, 'I am not African American.' I never expected my personal beliefs and comments to spark such emotion in people. I think it is only positive when we can openly discuss race and being labeled in America."
In her interview, Raven also said she disliked being labeled "gay" just because she happens to be dating a woman. So, what does she want to be called? "I want to be labeled 'a human who loves humans,'" she suggested.