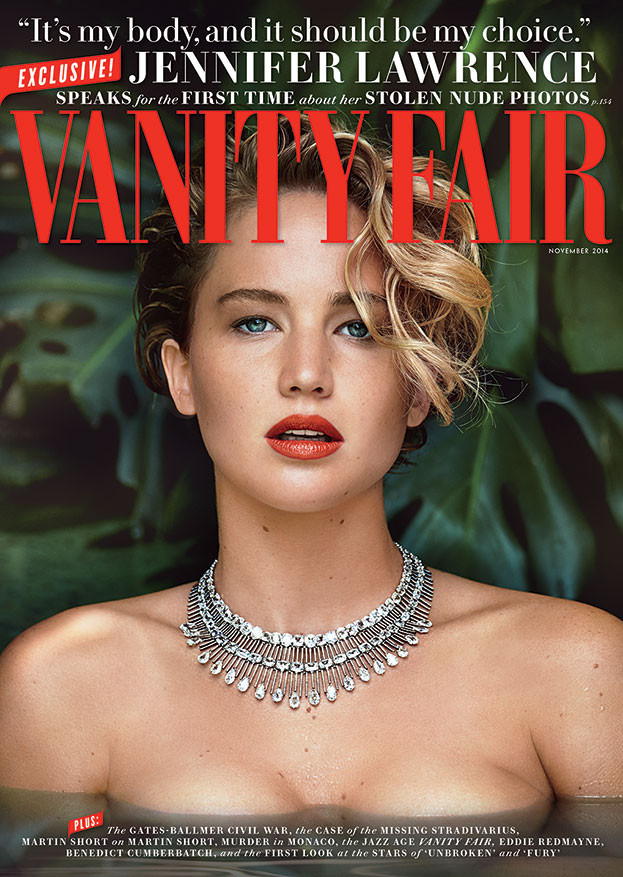 Patrick Demarchelier exclusively for Vanity Fair
Oscar-winning actress seeks Grammy-winning musician.
In Vanity Fair's November 2014 issue, Jennifer Lawrence describes her ideal mate in great detail. While she doesn't mention current beau Chris Martin specifically, it would seem they're on common ground. After all, the star isn't one to be wined and dined. "Isn't boring so much better than passion?" she asks.
Lawrence, who's said she is a fan of E!'s Keeping Up With the Kardashians, prefers to date "somebody [who] has the same taste in reality TV." What other shows does she watch? "Shark Tank. Wait! Oh, Dance Moms—that is a good one!" she says. "OK, maybe my favorite is Dance Moms, but I do love my Real Housewives. But there's also—there's Doomsday Preppers. Hoarders is OK. I find it gets a little boring after a while, but it's great. I love Intervention, New York Housewives—and Beverly Hills, New Jersey, and Atlanta Housewives. I mean, I love them all, but Miami—oh, my God! Miami is really special."
"Basically, what I'm saying is all I need in a relationship is somebody to watch TV with me," she says.
In addition to shared TV habits, the star says she wants to date a guy who "isn't afraid to fart in front of me." (Thankfully, the Hunger Games star doesn't discuss the Coldplay singer's thoughts on flatulence.)