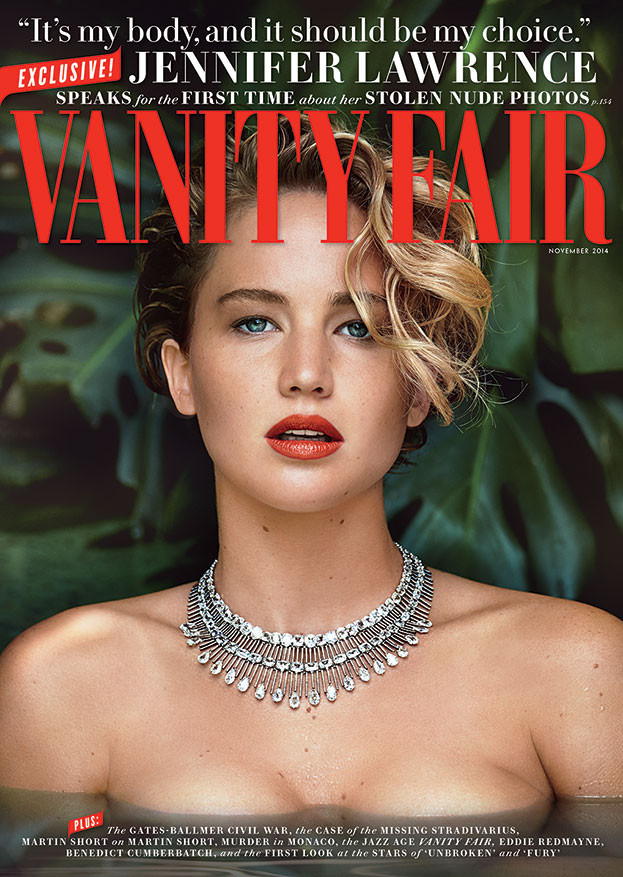 Patrick Demarchelier exclusively for Vanity Fair
If Jennifer Lawrence wants the world to see her topless, it'll be on her terms. Posing shirtless for fashion photographer Patrick Demarchelier, the 24-year-old actress covers Vanity Fair's November issue. In the profile, Lawrence breaks her silence about having dozens of nude pictures stolen and distributed online.
"I was just so afraid," she says. "I didn't know how this would affect my career."
The actress, who has always been guarded about her private life, was shocked when the photo leaked. "Just because I'm a public figure, just because I'm an actress, does not mean that I asked for this. It does not mean that it comes with the territory. It's my body, and it should be my choice, and the fact that it is not my choice is absolutely disgusting. I can't believe that we even live in that kind of world," she opines.
Lawrence was tempted to write a statement in August, but reconsidered. "Every single thing that I tried to write made me cry or get angry. I started to write an apology, but I don't have anything to say I'm sorry for. I was in a loving, healthy, great relationship [with Nicholas Hoult] for four years," she recalls. "It was long distance, and either your boyfriend is going to look at porn or he's going to look at you."