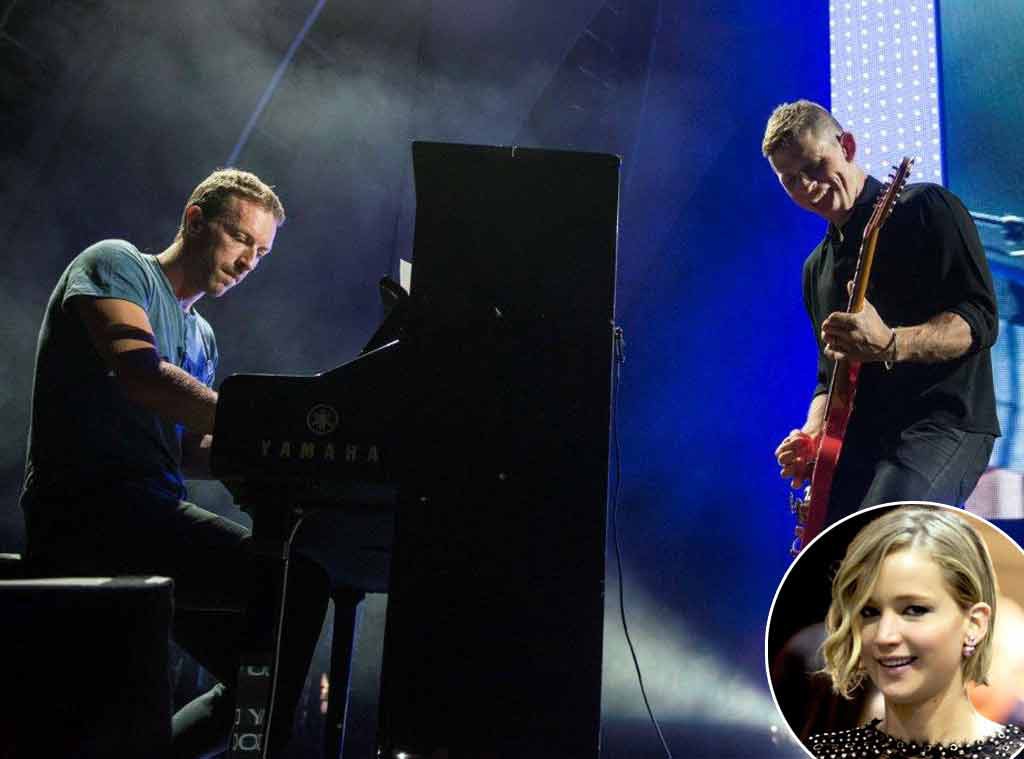 Courtesy: Timothy Norris; Getty Images
Jennifer Lawrence continues to support her man...and rock out!
The 24-year-old Hunger Games star and Oscar winner was spotted at Kings of Leon's concert at the Hollywood Bowl, which featured a guest performance from none other than her boyfriend, Coldplay frontman Chris Martin!
The actress was snapping photos and appeared to be having a great time during the entire show, a source told E! News. The concert took place on Friday and was attended by several other celebrities, such as Ashley Tisdale and her husband Christopher French, Kings of Leon rocker Caleb Followill's wife and Victoria's Secret model Lily Aldridge, Julianne Hough and Joe Jonas (check out more details about the show, plus more pics!).
Drummer Nathan Followill, who returned to the stage last month after recovering from a tour bus accident that had prompted the band to cancel several gigs, poked fun at Martin on Twitter after the concert.
"Thank you LA for an amazing night. Great time all around except for when that weird guy (Chris Martin) puked on my boots at the afterparty," he tweeted.
Lawrence has supported Martin at his own gigs as well. She attended a Coldplay concert elsewhere in Los Angeles in September (with a One Direction singer sitting behind her!) and also watched her British beau perform with his band at the 2014 iHeartRadio Music Festival in Las Vegas later that month (check out pics).
The two, who have been dubbed "Martin Lawrence" by many fans, have remained mum about their relationship. Backstage at the festival, the incognito duo was photographed in the same room for the first time. Later pics showed them exiting a private jet together.
Lawrence and Martin have been dating since at least late June, months after the singer and wife Gwyneth Paltrow, which whom he shares two children, announced their separation after 10 years of marriage. Lawrence went through her own breakup this summer—she and on-again, off-again beau X-Men: First Class co-star Nicholas Hoult called it quits.
—Reporting by Linda Kim