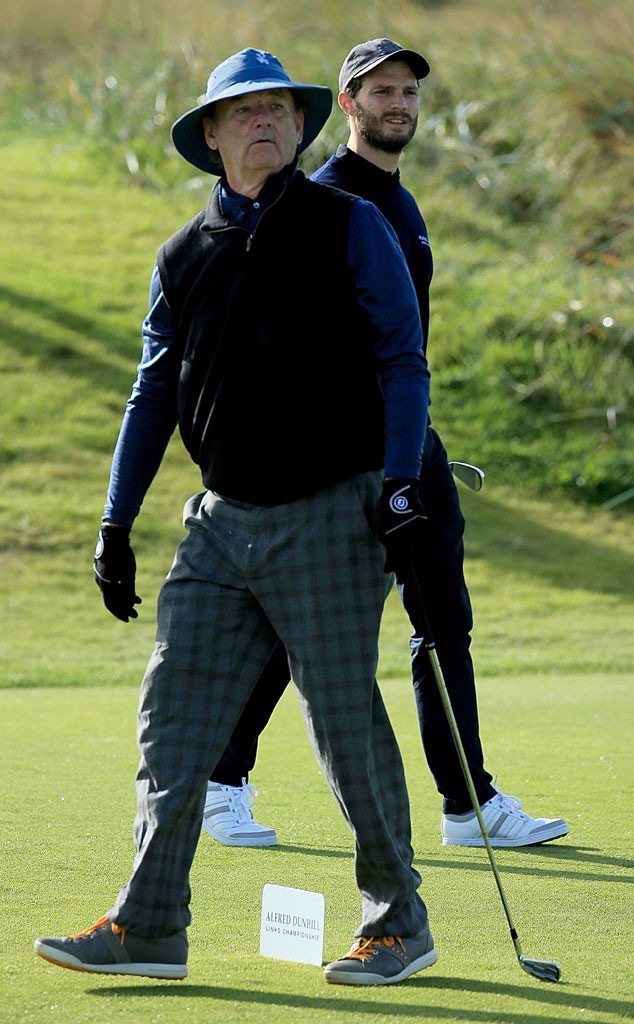 David Cannon/Getty Images
Once upon a time, Jamie Dornan, Damian Lewis and Bill Murray played golf. No really!
Earlier today, the three actors all participated in the 2014 Alfred Dunhill Links Championship in Carnoustie, Scotland. The star-studded putting match made for some pretty enjoyable photo ops. (Could you think of a more random but cool group of guys?)
The 32-year-old Fifty Shades of Grey star looked handsome in navy blue pants and a matching sweater with a baseball cap and white sneakers. The scruffy star showed off his impressive swing as Murray and Lewis watched on.
David Cannon/Getty Images
As for Murray, the kooky 64-year-old paired his dark plaid pants with a blue top under a black vest. Murray completed his golfing getup with gloves, a blue hat and sneakers.
Lewis looked positively dapper in dark red pants and a blue shirt with a tan newsboy cap and fancy black and white shoes. The 43-year-old Homeland star was also snapped mid-swing with the rolling green hills in the background.
David Cannon/Getty Images
"Amazing experience day 1 of @dunhilllinks!" Dornan tweeted Tuesday along with a great photo of him playing golf during the championship.
Lewis is a longtime lover of golf and has previously played in tournaments like the 2009 Shooting Stars in Desert Nights Benefit in London. Murray is also and avid golf player.
Perhaps Dornan should start his our tournament called Fifty Shades of Green!