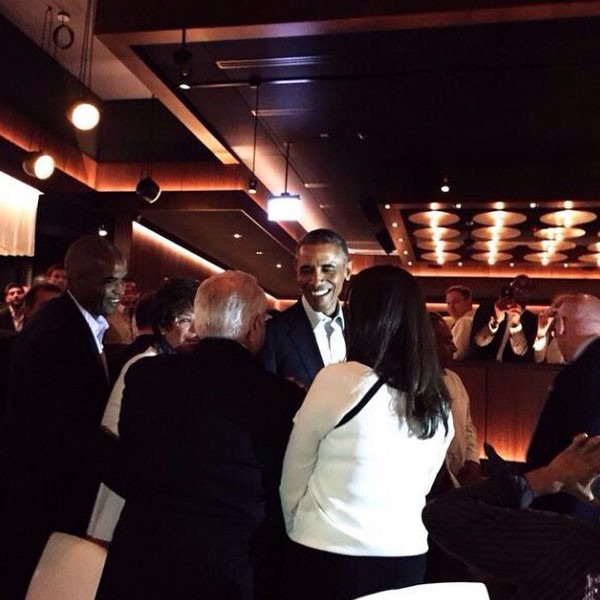 Instagram
RPM Italian Chicago has served the likes of Lady Gaga and Ashton Kutcher, and on Wednesday, its sister restaurant RPM Steak Chicago catered to its own famous guest: United States President Barack Obama!
Giuliana Rancic and Bill Rancic are partners in the restaurants. "We've only been open a month, so to have the president come for dinner was a big surprise and incredibly exciting," the E! News host, 40, exclusively reveals. First Lady Michelle Obama "has dined at our first restaurant, RPM Italian Chicago," Giuliana continues, "but this is the first for us to have the president come to one of our restaurants."
White House senior advisor Valerie Jarrett and friend Marty Nesbitt joined the commander-in-chief.
Barack, 53, "had a great meal and was great with staff and diners," Giuliana says. Plus, POTUS "took pictures and said hello to most of dining room before heading to a private room upstairs on mezzanine."
"He came right through the front door and was great with everyone. People were so excited and clapping at times and standing to take photos and meet him," Giuliana says. "He was smiling and friendly and greeted diners, some celebrating birthdays." Barack stayed for more than three hours.
"We didn't know he was coming until the motorcade pulled up, which was super exciting," Giuliana says.
Barack is in the Windy City to headline a closed-door fundraiser on Gov. Pat Quinn's behalf Thursday. Later that day, he will make a speech about the economy at Northwestern University in Evanston, Ill. The president is expected to return to Washington, D.C., shortly after addressing students and faculty.