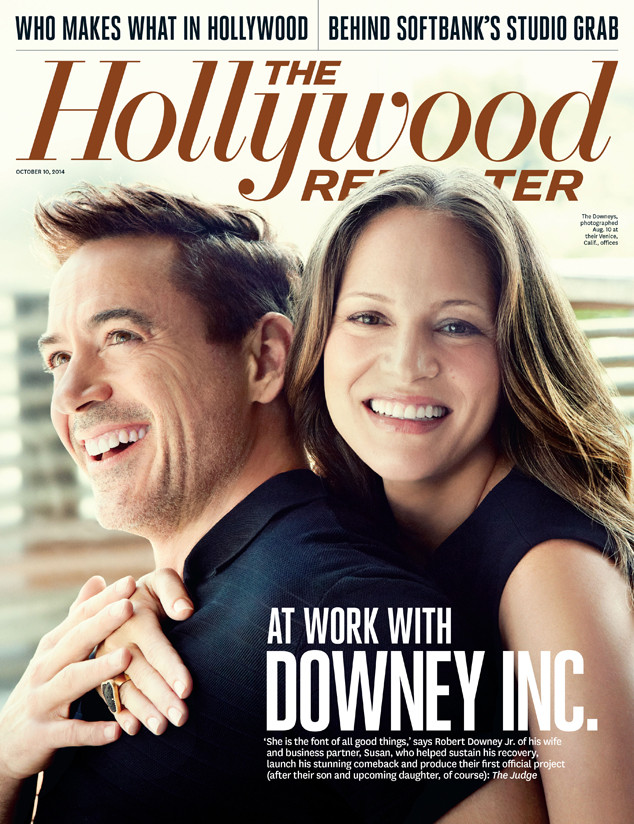 Courtesy The Hollywood Reporter
Robert Downey Jr. and Susan Downey are the yin to each other's yang.
Before The Judge hits theaters, the power couple covers The Hollywood Reporter's Oct. 10 issue. In a rare joint interview, they reveal why their polarity makes them perfect partners in business and in life.
The couple met in 2003 while Susan was producing her first movie for Joel Silver. Given that she'd been working at his Silver Pictures since 1999, she knew that Gothika could be her big break. As such, she was focused on work, not romance. "We were up in Montreal prepping for Gothika, and we had lunch with the director and Halle Berry," Susan recalls of their first encounter. "Everybody else ordered Japanese, but Robert told us how oatmeal was the 'superfood.' He brought his own packets of oatmeal to have at lunch. And he had this box of various herbs and stuff. And then he started doing these yoga moves."
Susan adds, "I mean, he was interesting, but weird."
Robert's weirdness, as it turned out, won over the producer.