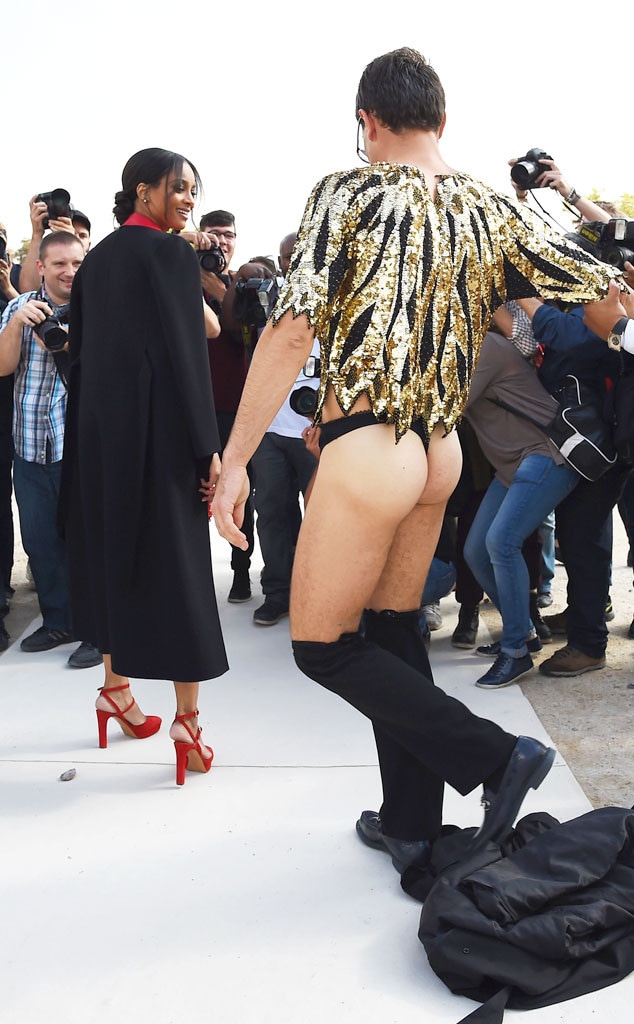 Jacopo Raule/GC Images
UPDATE: A source tells E! News that Ciara is "doing fine" after the bizarre incident, adding that "she was a little thrown off when that game came charging at her. It all happened so fast."
The insider continued, "She thought he was so creepy in that thong."
________
Le sigh…it looks like Paris Fashion Week prankster Vitalii Sediuk has struck once again.
This time, the notorious red carpet crasher jumped CiCi shortly before she entered the Valentino show earlier today.
The singer and new mother was posing for photographers when an overzealous Sediuk rushed the crowd and immediately stripped down to a thong and gold sequined top.
Ciara, understandably and visibly confused by the run-in, did her best to mitigate the situation when Sediuk approached her and hugged her.
This marks the third time that he's bum-rushed celebrities at the semi-annual fashion event in the City of Light.
Late last week, he attacked Kim Kardashian as she was trying to make her way into Balmain's Paris Fashion Week show.
The 33-year-old was swarmed with a crowd of fans and photographers when she stepped out of her car, and Sediuk unexpectedly dove for her legs.
In a video captured by paparazzi, Kris Jenner is shown exiting the vehicle and screaming, "Stop it," as soon as she realized what was happening to her daughter.
Shortly after the scary ordeal, Sediuk released the following statement to E! News:
"The prank with Kim was my protest that US banned me from entering the country. I hope Kim is ok and won't be mad at me as I didn't mean any harm. Kanye is one lucky man as Kim is a Goddess!"
Then just days later, E! News learned that he attempted to get close to Kanye West's wife once again during a chance encounter at Hotel Costes in Paris.
We're told that Sediuk wasn't successful in approaching the E! reality star that time, however, as her security team spotted him at the restaurant and made sure that he kept his distance as she left the venue.