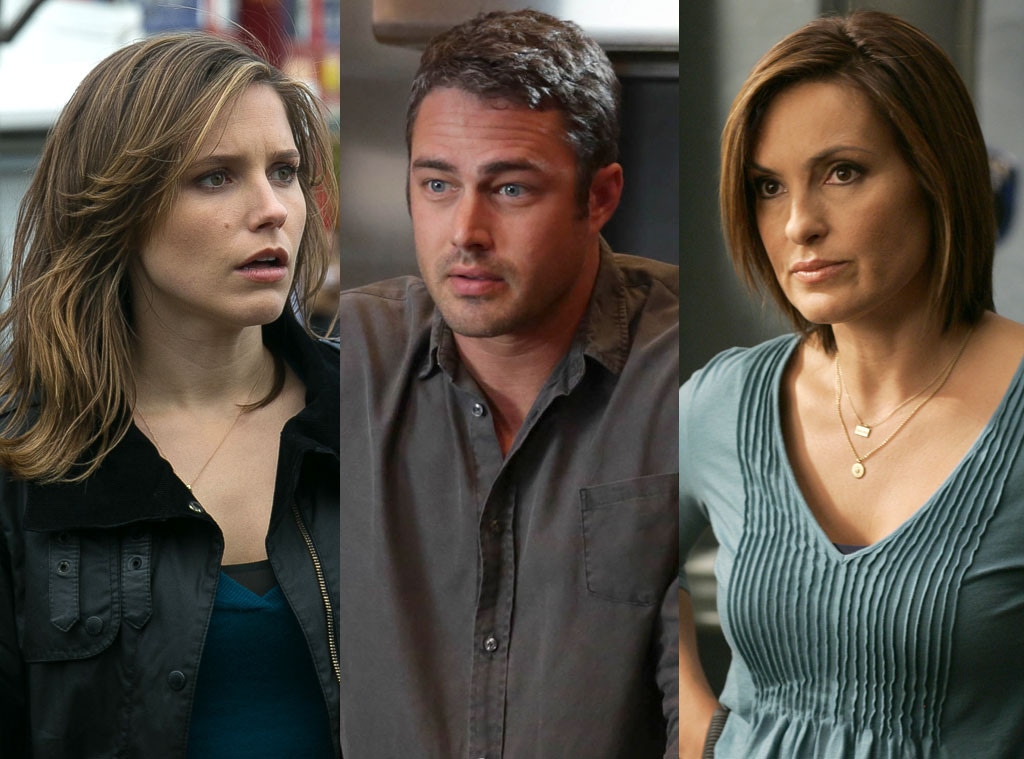 NBC
Sound the crossover alert alarms! Law & Order: SVU, Chicago PD and Chicago Fire are all going to meet in a three-part crossover on NBC. The shows will hold the three-way crossover in November. Things kick off on Chicago Fire on Tuesday, Nov. 11 at 10 p,m., then continue on SVU on Wednesday, Nov. 12 at 9 p.m. and ends on PD the following hour. Look for members of the PD crew to intermingle with SVU detectives and then SVU detectives travel to Chicago. The storyline deals with a child pornography ring that stretches from Chicago to New York.
"Warren Leight (SVU showrunner) and Matt Olmstead (Chicago Fire/Chicago PD showrunner) are two of the best writers in the business. We wanted to figure out a way to create a crime that connects all three shows. Warren, Matt and I came up with a story that was big and unique enough to transit to all three," Dick Wolf said in a statement.
TV Guide reports Sophia Bush, Jesse Soffer and Jason Beghe will appear on SVU. Mariska Hargitay, Kelli Giddish and Danny Pino will appear on PD. Nobody from SVU will appear on Fire.
This isn't the first crossover for either series. Law & Order: SVU and Chicago PD previously had a crossover last year when Lindsay (Bush) came to SVU looking for help. She returned to Chicago with Rollins (Giddish) and Fin (Ice-T). PD and Fire regularly intersect. All three shows hail from Wolf.
This is Chicago Fire's third season, Chicago PD's second and Law & Order: SVU's 16th. Hargitay has been playing Olivia Benson since the show's start in 1999.
"I love her more now than ever...I love her because I am challenged by her," Hargitay told reporters on set of Law & Order: SVU. "I never know what's going to happen. She surprises me. [Warren Leight] surprises me. This character has evolved, which is the most exciting part of it. I feel in many ways she's a new character because she's gone through so much that has truly transformed her."
Crossovers are all the rage this season. The Simpsons and Family Guy had one in the season premiere of Family Guy, appropriately titled "The Simpsons Guy." The one-hour episode brought in big numbers, 8.4 million viewers and a 4.5 rating in the key 18-49 demographic. The Simpsons will welcome characters from Futurama later this season.
(E! and NBC are both part of the NBCUniversal family.)