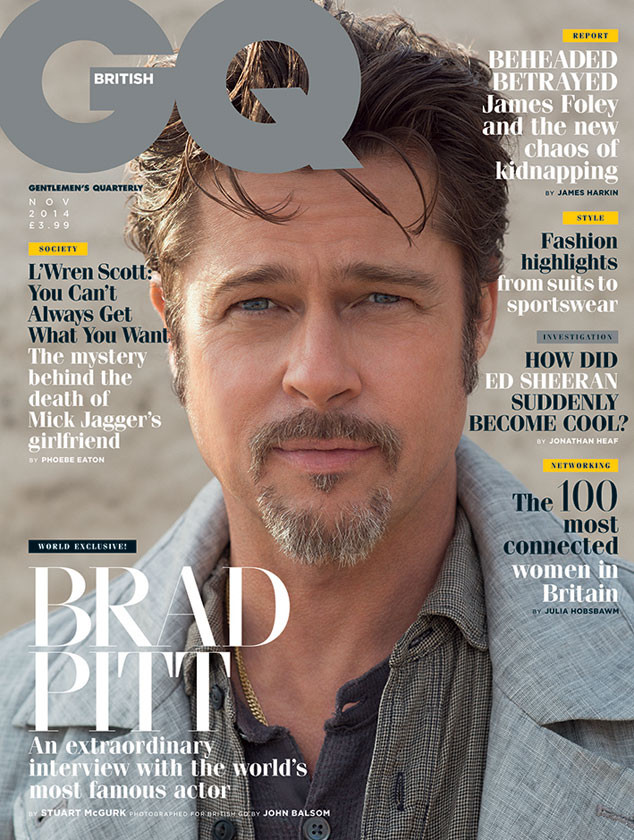 John Balsom
Brad Pitt is not the same person he was 20 years ago.
Has being married to Angelina Jolie changed the actor's views regarding commitment? "I wouldn't say [marriage is] just a title," the star says three months after his wedding. "There's more to it than that."
And yet, the newlywed doesn't say much more about his bride in excerpts from British GQ's November 2014 issue. Pitt does, however, recall his on-set argument with Fury co-stars Shia LaBeouf and Scott Eastwood in great detail.
"We were driving down the road, I'm in the turret, Shia is at the other turret, and Scott is on the back, spitting juice. And I'm starting to get pissed off, I'm starting to get hot, because this is our home, he's disrespecting our home, you know? So I said, in the scene with the cameras rolling, 'You're going to clean that s--t up.' Shia clocks it, and you have to understand, we've been through severe boot camp already. We've been through a lot in this tank. Shia saw it and felt the same—he's disrespecting our home," the actor, 50, tells the magazine. "So, Shia had the same reaction I did and started having some words...Then I had to get in after the cameras were rolling and explain it to Scotty, you know."