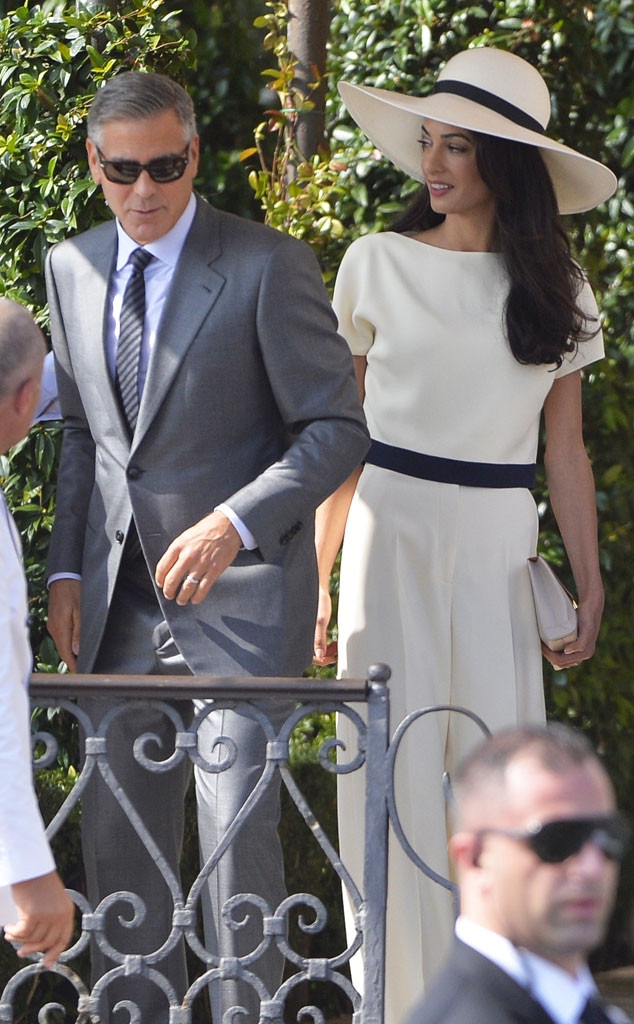 ANDREAS SOLARO/AFP/Getty Images
Ladies and gentlemen, George Clooney and Amal Alamuddin are now legally married!
E! News can confirm the Hollywood hunk and human rights lawyer finalized their union with a civil ceremony in Venice, Italy, Monday afternoon. The couple arrived at the municipal building at 1:25 p.m. local time. Clooney, wearing a two-piece gray suit, and Alamuddin, wearing a cream pantsuit and a matching hat, waved to well wishers who were gathered outside. A local politician escorted them inside the building to sign the marriage papers. The Clooneys emerged 10 minutes later and looked ecstatic as they held hands and kissed. A local city council press person confirms "the ink was on the paper, finalized, at about 1:30. The rest was just happiness and joy."
The couple got in the boat and went up the canal slowly, with paparazzi in tow and police boats leading the way. "Fans were going wild! People were running alongside the banks," an eyewitness says.
The ceremony comes two days after the couple said "I Do" in a separate private ceremony that was attended by family and close friends including Matt Damon, Bill Murray, John Krasinski, Emily Blunt and more famous faces.
George and Amal's final ceremony concludes a jam-packed weekend for the couple and their guests who traveled across the world as early as Thursday to attend the festivities.
ANDREAS SOLARO/AFP/Getty Images
After separate bachelor and bachelorette parties Friday night, the couple swapped vows at the gorgeous Aman Candal Grande hotel. The entire wedding venue was decorated with white flowers as well as hundreds of hand-crafted flickering candles.
The next day, the newlyweds received cheers from hundreds of tourists, locals and photographers as they made their first public appearance as husband and wife.
Wearing a Giambattista Valli Couture mini dress, Alamuddin turned heads as she showed off her new wedding ring while holding hands with her husband. The pair enjoyed plenty of applause as they boarded a private boat.
 "Everyone in Venice feels so privileged they did this here," an eyewitness told E! News. "What a wonderful moment to see. We all say she's like Jackie [Kennedy] Onassis. We love her and George does too. It's lovely."
With the big weekend behind them, the newlyweds hope to enjoy some private time before embarking on a honeymoon. Until then, it's all smiles for the stunning pair!
"George and Amal could NOT have been happier," another eyewitness told E! News.  " They are clearly on top of the world and are just thrilled to be enjoying their wedding weekend."
Congratulations to the happily married couple!
—Reporting by Ken Baker, Jen Paul and Senta Scarborough
For more on George and Amal's wedding, watch E! News tonight at 7:00 p.m. and 11:00 p.m.