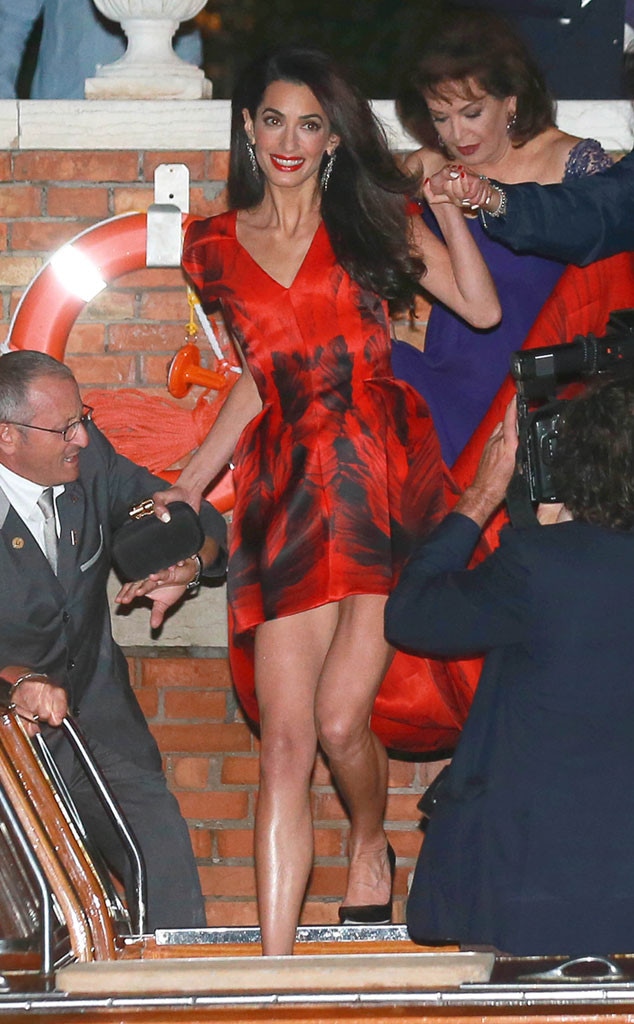 Xposure/AKM-GSI
The big wedding countdown continues.
As part of their big wedding festivities, Amal Alamuddin and George Clooney were spotted celebrating their respective bachelorette and bachelor parties in Italy tonight, E! News learns. The bride-to-be donned a gorgeous red gown as she arrived in a boat with about 10 of her nearest and dearest gal-pals, including her sister, Tala, mom, Baria and fellow London-based lawyer Philippa Webb.
The ladies were accompanied by a second boat that had Clooney and his guys also riding to the Aman Canal Grande. Once the two groups arrived to their destination, "George escorted Amal down there then left," an eyewitness tells us.
It doesn't look like their last flings before the rings are going to be too crazy. The actor and seven friends, including Rande Gerber, Cindy Crawford's husband, continued to Da Ivo restaurant for dinner (check out exclusive details), while his lady and her female friends enjoyed dinner elsewhere.
After tonight, the pair will prepare for the big day! A source says the bride will get her makeup and hair done in the morning at the Aman, where Clooney and guests will join her. Alamuddin and Clooney will have a symbolic wedding ceremony that night, which will likely be performed by former Rome Mayor Walter Veltroni.
Festivities will continue on Sunday, when the newlyweds will have lunch with their guests, a source tells E! News, followed by another party. On Monday, Clooney and Alamuddin will wrap up their wedding weekend fun with a civil ceremony, at which point they will officially and legally be man and wife.
—Reporting by Senta Scarborough and Elizabeth Florer