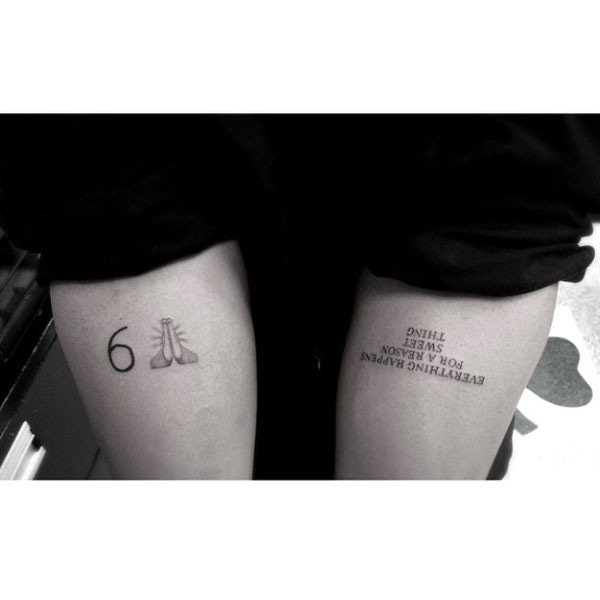 Instagram
Drake must be the type of guy to use all kinds of emojis during his text conversations.
The rapper added some new ink to his bod, and his choice of what to get surprised many because Drizzy decided to get an emoji permanently placed on his arm! Oh yeah, he's about that life.
A recent Instagram post from Los Angeles-based tattoo artist Dr. Woo shows that the Toronto native stopped by Shamrock Social Club in Hollywood to get two new tattoos. One was an inspirational-type of quote on his left forearm that read, "Everything happens for a reason sweet thing," while his right forearm had the number "6" (because "the 6 is Toronto") next to the prayer hands emoji! #Blessed
"@champagnepapi good times, thanks for the visit #jimjoe6 #wordsofwisdom #shamrocksocialclub," Dr. Woo captioned the photo.

Regardless of tagging the celeb's Instagram handle, many questioned whether or not those were really Drake's arms, but the speculation was laid to rest after Drizzy was spotted in Beverly Hills with the ink visibly showing on both of his arms.
So yes, those really are his arms, and yes, he really did get an emoji tattooed on his arms, and yes, they are prayer hands.
Probably one of the biggest emoji debates of our time (because there are so many) is whether that particular emoji is a pair of hands praying or two hands high-fiving. Since we like to dabble in a little bit of investigative journalism here and there, let us offer this simple argument: When you high-five someone, do you or do you not slap with opposite hands? You do, because high-fiving someone's left hand with your left hand (or vice versa) is awkward. So, with that in mind, the two thumbs wouldn't be on the same side. Case closed.
Even the Take Care rapper acknowledged the big emoji controversy in the comments of his tattoo photo.
Regardless, most emojis aren't used for their official purpose, anyway.
One word: eggplant.