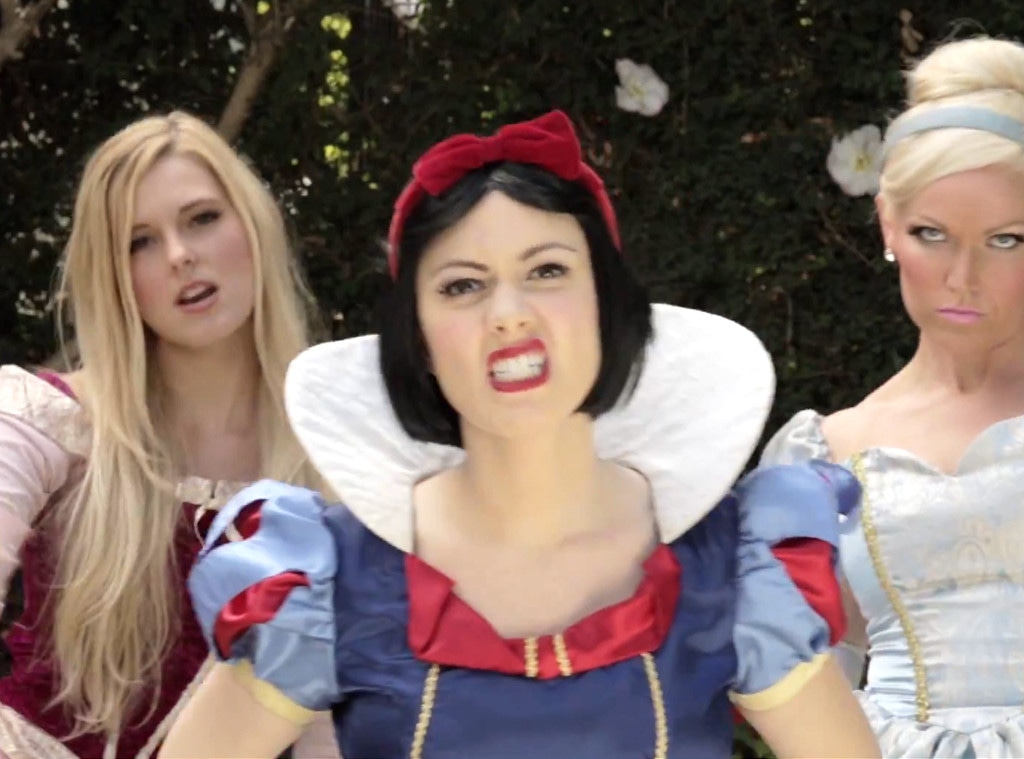 YouTube
The crowns have officially come off!
Actress Whitney Avalon shared a funny YouTube video—which she wrote, produced and starred in—of Disney princesses Elsa and Snow White clashing in an epic rap battle. And, contrary to what viewers have come to expect from the sweet and caring characters, these ladies are not playing nice!
"I'm the original princess, you're a copy of a copy. I am porcelain and perfect and your floppy hair is sloppy," Snow White spits as Sleeping Beauty's Aurora and Cinderella back her up.
Ironically, the "Fairest One of All" continues her fierce attack, calling her opponent a "blonde snow-blower in a sparkly dress."
But the harsh insults hardly faze Frozen's magical ice queen.
Flanked by Brave's Merida and Tiana from The Princess and the Frog, Elsa replies with, "I'm savvy, strong, single and so independent. You're the weakest role model while I am transcendent. You're a forgotten bygone, yes, time is the cruelest. I'm the newest, the boldest and literally the coolest." Ouch!
In the end, Elsa claims the rap battle throne when she uses her powers to silence her foe. Snow White, it's probably best not to diss someone who can turn you into an icicle. Lesson learned.
Watch the entire clip below!