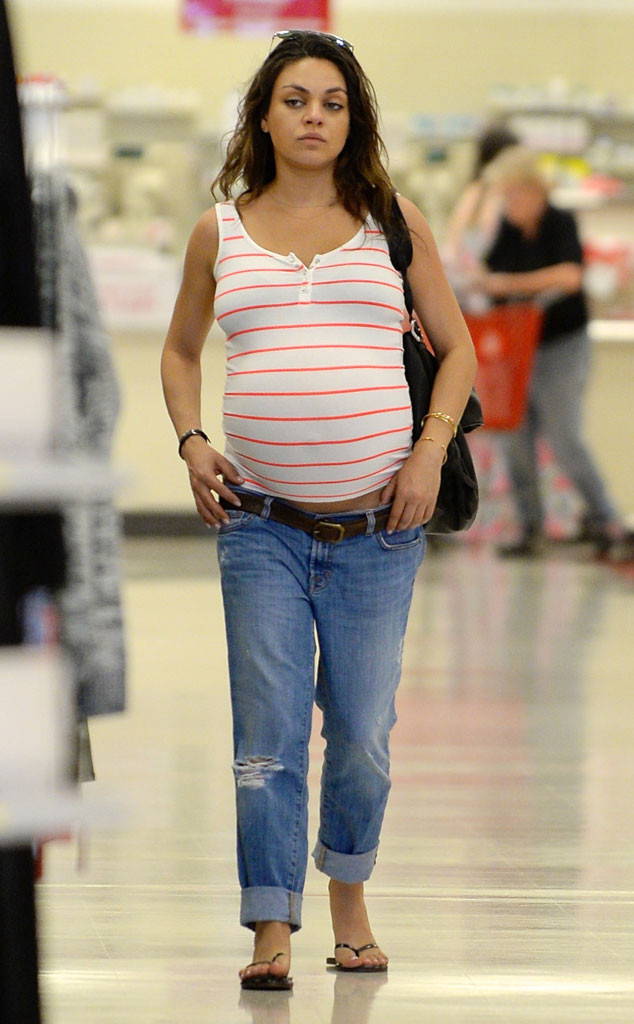 Dean/MRM/NPG.com
What more do Mila Kunis and Ashton Kutcher need?
The pregnant Third Person star ran errands Wednesday afternoon, starting with visiting a carwash in L.A. Afterward, Kunis—wearing a striped tank top, distressed denim and flip flops—went shopping at Target. A female friend pushed a shopping cart, which appeared to be filled with clothing. "Mila seemed to be relaxed and in a good mood," a source tells E! News. "She and a friend browsed the shoe section and bought some children's clothing." The movie star also bought some frozen food items.
Later that night, Kutcher tweeted a picture from the set of CBS' Two and a Half Men. "Nesting.... Too much?" he asked. Multiple toys were displayed in the photo, including two battery-powered cars, two arcade games and a slide. In addition to a C-3PO replica, the set also featured an impressive stuffed animal collection, with alligator, giraffe, gorilla, panda bear and polar bear plush toys filling the space.
Perhaps the scene was inspired by Tom Hanks' bedroom in the 1988 movie Big!
In real life, the Jobs star lives with Kunis in a $10.2 million Beverly Hills home.