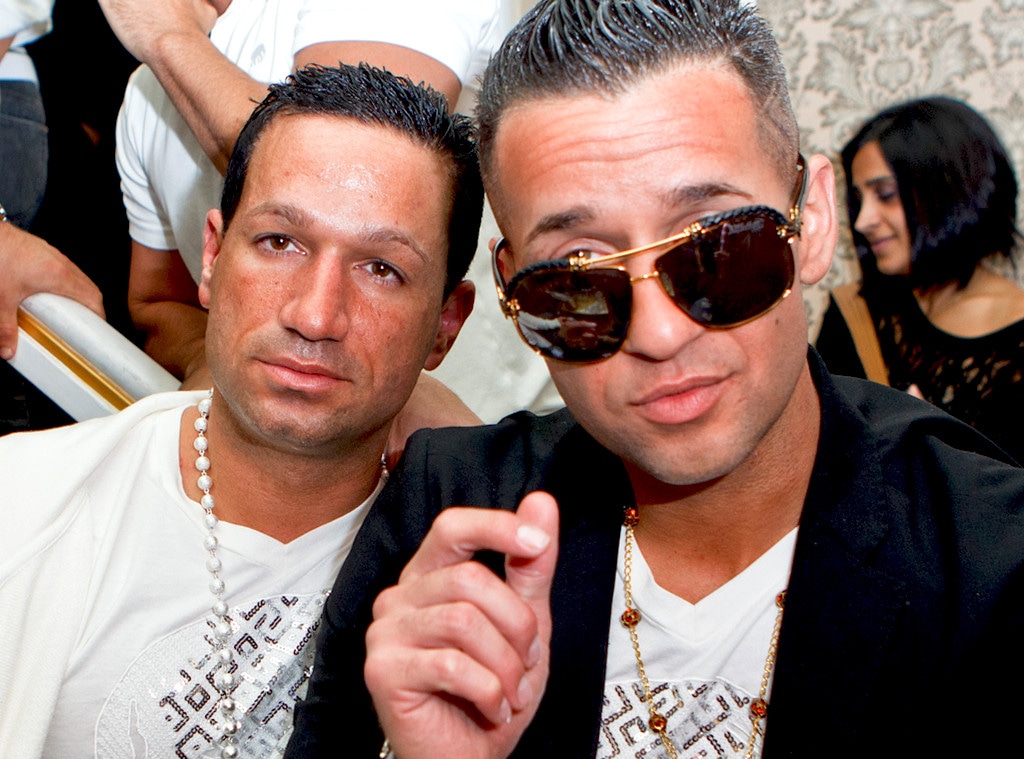 Chelsea Lauren/WireImage
UPDATE: The Situation's attorney, Richard J. Sapinski, tells E! News: "Michael denies the charges and believes that when all the facts come out it will be clear that he did not criminally violate the tax laws."
__________________________ 
Jersey Shore alum Michael Sorrentino, aka Mike "The Situation," and his brother and manager Marc Sorrentino, were indicted on Wednesday of failing to pay taxes on $8.9 million and could go to prison if convicted.
The two appeared in a New Jersey court and pleaded not guilty to all counts. Bail for each was set at $250,000. They are set to be arraigned on Oct. 6.
The brothers allegedly conspired to fail to pay federal income tax owed on income that the actor had earned for "promotional activities" between 2010 and 2012, which was received by companies both he and his sibling controlled, prosecutors said in a statement to E! News. The indictment also alleges that Mike and his brother claimed more than $5,104,000 in "false" or "inflated" business expenses, which included luxury cars, high-end clothes and "personal grooming expenses."
Mike and Marc were charged with one count each of conspiring to defraud the U.S. government, which carries a maximum penalty of five years in prison and a $250,000 fine, and two and three counts respectively of filing false personal tax returns, "which failed to report all of the income they received" between 2010 and 2012. Each count for the latter carries a maximum punishment of three years in prison and a $250,000 fine.
Mike was also charged with one count for allegedly failing to file his 2011 tax return, the year he earned $1,995,757, and faced an additional threat of a maximum penalty of one year in prison and a $100,000 fine.
The news comes almost a year following a federal investigation into Mike's finances. His publicist told NJ.com at the time that the reality star was cooperating and "is fully aware that the U.S. Attorney's office has issued subpoenas for records relating to several businesses he owns." The indictment states that "numerous entries" in the documents that were submitted were "altered."
Paul J. Fishman, United States Attorney for the District of New Jersey, said in the statement that between 2010 and 2012, Mike and his brother "funneled company money into personal accounts."
The indictment says the brothers were paid approximately $369,000 in booking fees in cash—from $1,500 to $48,000 apiece, for the reality star's "personal appearances at various venues, including nightclubs, bars, and liquor stores" between 2010 and 2012. It states they deposited some of the money into bank accounts and did not declare all of it as income.
Mike dealt with another legal case this past summer. In June, he was arrested at his own tanning salon in June and charged with assault after allegedly getting into a fight with his other brother, Frank. The case is pending. In July, Mike agreed to complete 12 weeks of anger management classes.
Also this summer, Mike, Marc and Frank all starred together in a new reality show, The Sorrentinos, which ended its debut season earlier this month.
While he has not commented directly about the tax case, Mike posted a couple of cryptic messages on his Instagram page on Wednesday.
—Reporting by Lindsay Good and Claudia Rosenbaum
(Originally published Sept. 24, 2014, at 12:55 p.m. PT)