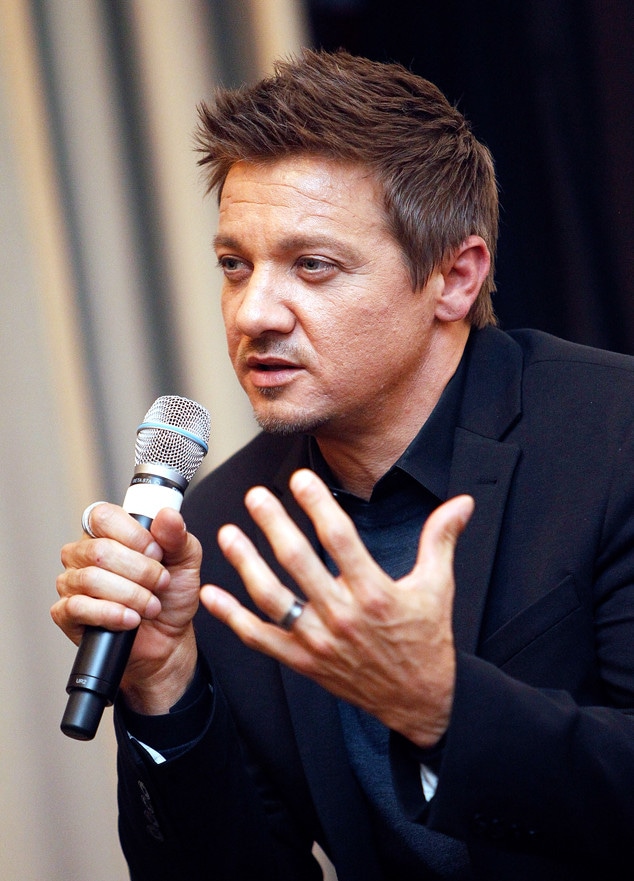 Paul Morigi/Getty Images for Capitol File Magazine
Jeremy Renner is just as stealthy as his Hawkeye alter ego.
The Avengers: Age of Ultron actor revealed he has secretly married Sonni Pacheco. Renner flashed his wedding band during a Kill the Messenger screening in Washington, D.C., Tuesday. "I have tried to protect my family's privacy, my wife's privacy. I don't need her to get hammered with my life," he told the magazine Capitol File.
Asked point blank if he's a married man, Renner replied, "Yes."
Why keep the news a secret?
"It's annoying being followed when I'm with my family," the 43-year-old, two-time Oscar nominee said. "It's not just me—everyone [in Hollywood] has to deal with that. I've been talked about a whole lot, because the less I put out there, the less people know, and it makes it interesting, I assume."
Renner also spoke about raising their 17-month-old daughter, Ava Berlin.
"It's the best thing I have ever done—doing it later on in life. By then I achieved a lot of things that I wanted to achieve; I'm so blessed for that. Now I can really spend time with family. The only thing I think about when I'm not with my baby is, 'How do I get to my baby?' I need to get to her, and I'm very miserable when I don't see her. I really love being a father. The only that has changed is my perspective on things. I still work, probably even more. It used to be all for myself so I'm not old and broke. All these things I still do, but I do it now for the future of my baby, and if it gets in the way of her well-being, then I stop," the Hurt Locker star said. "I can't wait for her to get older, but I really enjoy her now. She's the greatest. She's into her sticker phase...As a father, I'm going to make it very difficult for her to find a man."
Renner seems to be a changed man.
Speaking to Elle in November 2013, the actor said he "never felt" pressure to get married, but added that he wasn't even sure if he believed in the institution. "It's not necessarily something I often think about. It's a whole other conversation," he said. "Don't forget how the institution of marriage came about."
What does Renner hope to teach his daughter with Pacheco? "Compassion. Something a lot of people don't teach," the actor said.
And what does Renner want to teach his little girl about men? "Stay away!"