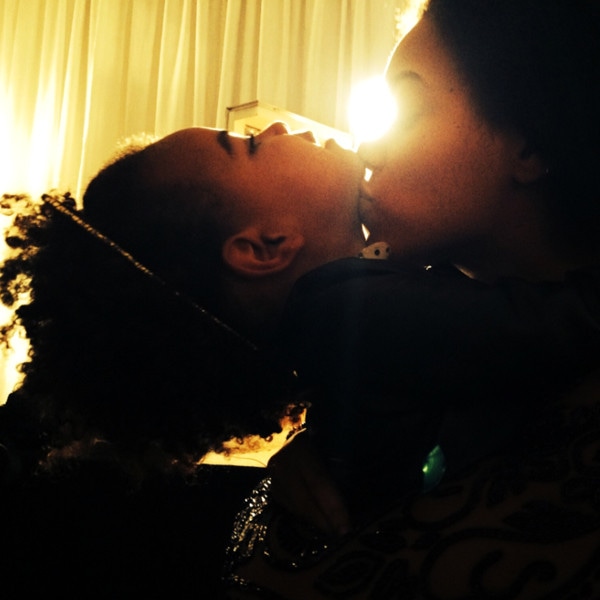 beyonce.com
Beyoncé's most definitely living the good life, but luckily for the rest of us, she's letting us into the Bey-hive via her Tumblr pics.
On Tuesday, Jay Z's wife shared a handful of new shots on her website, including an adorably kissy-face picture of 2-year-old daughter Blue Ivy Carter!
Queen Bey, 33, showed off her tiny middle in a cinch-waist dress in one snap, and in a va-va-voom bikini shot, she put her bootylicious curves and killer cleavage on full display.
In order to look like that, the "XO" singer works out on the reg and generally eats healthy food. Of course, every now and then Bey allows herself a little diet splurge—like the delicious looking smiling pancake she shared a picture of Tuesday.
Every so often, though, Bey and hubby Jay will feel they overindulged just a little too far and need a nutritional reset. So, during times like this, the power couple stick to a vegan diet!
Blue's parents did this back in December with a 22-day meat-free plan. They worked with Marco Borges, a personal trainer and CEO of 22 Days Nutrtion, who told E! News at the time Bey "is all about health and wellness...She just wants to feel good."
"The transition [from vegan] was fairly easy," he explained, "because [now] she's sticking to a mostly plant-based diet with some fish here and there."
To be fair, though, Borges worked with Bey on a combination of "body-weight squats, lunges and pliés, along with plyometric exercises and sprint intervals".
Often, too, she was joined by Hov in the gym! "They're like every other couple, they love spending time together, they'll work out together whenever its possible, whenever their touring schedules allow," said Borges. "They'll absolutely jump in the gym together whenever they can, she'll be running and he'll be on a bike, or she'll be jumping rope and he'll be running."
Now if only Jay and Bey could motivate all of us in the gym...