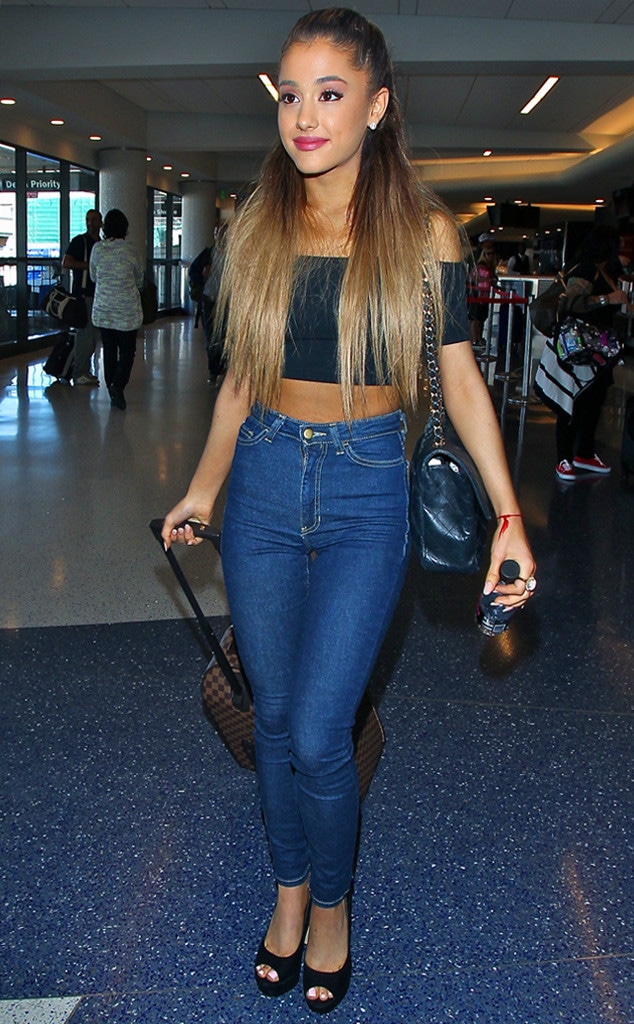 RA, PacificCoastNews
It happens to the best of us, right?
Ariana Grande was spotted at LAX airport yesterday dressed in a pair of skin-tight, high-waisted jeans, black pumps and a black off-the-shoulder crop top.
But it was her self-tanner snafu that caught everyone's attention and not her body conscious travel ensemble.
It looks like the "Problem" singer had one major problem on her hands: her faux glow.
Grande's stomach appears several shades darker than the rest of her body—girl, who let you leave the house like that?!
But the beauty blunder certainly didn't seem to bring the pop star down, as she was on her way to the Big Apple after spending the weekend in Las Vegas for the 2014 iHeart Radio Music Festival alongside her new beau, Big Sean.
The two were seen kissing at an after party not long after she performed her hit track "Bang Bang" with on stage with Nicki Minaj.
But back to the new couple at hand…the twosome have remained fairly mum about their blossoming romance, but Grande hinted at the love in her life with her latest Instagram.
The photo shows the silhouette of two people, presumably Grande and Sean based on their respective hats, with a simple smiley face serving as the caption.
The 26-year-old rapper recently gushed about his leading lady in a revealing interview with MTV News where he spilled the beans on the beginnings of their relationship, their chemistry and much more.
Kevin Winter/Getty Images for Clear Channel
"I was the first rapper to perform at the White House," he explained at first. "I performed there with Ariana, so that was an honor. [We] make a lot of music together and the chemistry between me and her when we work is great."
Sean also shared that the duo has more collaborations in the works, especially after their success of their first two, "Right There" and "Best Mistake."
"We got more in the works, too. I feel like her voice is crazy, [just] that that big voice comes out of her is insane.
He continued, "I was probably one of the first people to ever tweet about her music. We've been friends for years before anything else."