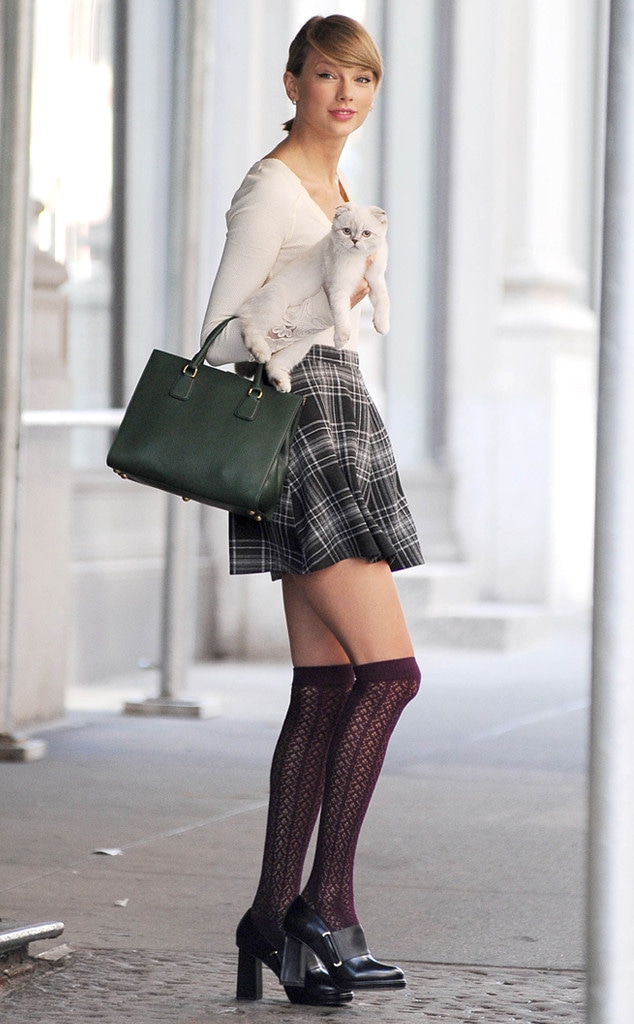 Humberto Carreno/startraksphoto.com
Taylor Swift has done it again. 
The super-sweet pop star, who is known for her kind gestures, invited 35 of her loyal Swifties to her Los Angeles home on Saturday for a secret listening session of her upcoming album 1989, sending her faithful fans into a state of shock (and T.Swift bliss!) after they were given the surprise of a lifetime: a chance to meet their idol. 
A number of Taylor's fans shared pics from their special day on social media in addition to detailing the afternoon on Tumblr. 
According to the posts, the handpicked fans, who had no idea what was about to happen, met at a church where they were checked by security before being escorted to the singer's home. 
Swift's trusty supporters were then fed pizza (do we sense a theme?), as well as fresh-baked cookies and other treats before the Grammy-award winning artist arrived with her cat Olivia Benson in hand. 
She even introduced her fans to her parents and said they were allowed to share anything from their experience at the event, with the exception of the song titles and lyrics. 
Taylor also explained the album's personal significance and revealed the inspiration behind each and every song (hmm...wonder if Katy Perry's name was mentioned?) 
And she even dished on her former relationship with One Direction stud Harry Styles. 
After providing fans with the background story for each track, she played the entire album, singing along to every song and acting out parts of the verses. 
And of course, since this is Taylor Swift, she announced an intermission halfway through the listening session, at which point she brought out a huge plate full of pumpkin chocolate chip cookies that she baked herself. 
Swift then proceeded to introduce herself to each individual Swiftie and gave each and every one a hug before snapping a sassy Polaroid pic. 
She also brought Olivia out to meet her fans (Meredith was home too, but she was too shy to come say hi) and she even let them borrow her "toys" (i.e. one of her many Grammy awards) to hold during the pics. 
This isn't the first time Swift has gone above and beyond to show her fans just how much she cares. Following her worldwide Yahoo! livestream last month, during which she announced her new album, invited her loyal Swifties, who were hand-picked to participate in the livestream, back to her apartment in the Big Apple for a giant pizza party. 
As one fan who attended Swift's surprise soiree on Saturday summed up her experience, "they say you should never meet your heroes or idols, because usually you are guaranteed disappointment. But I'm proud to say that taylorswift is one exception to that rule." 
Stay fabulous, girl!