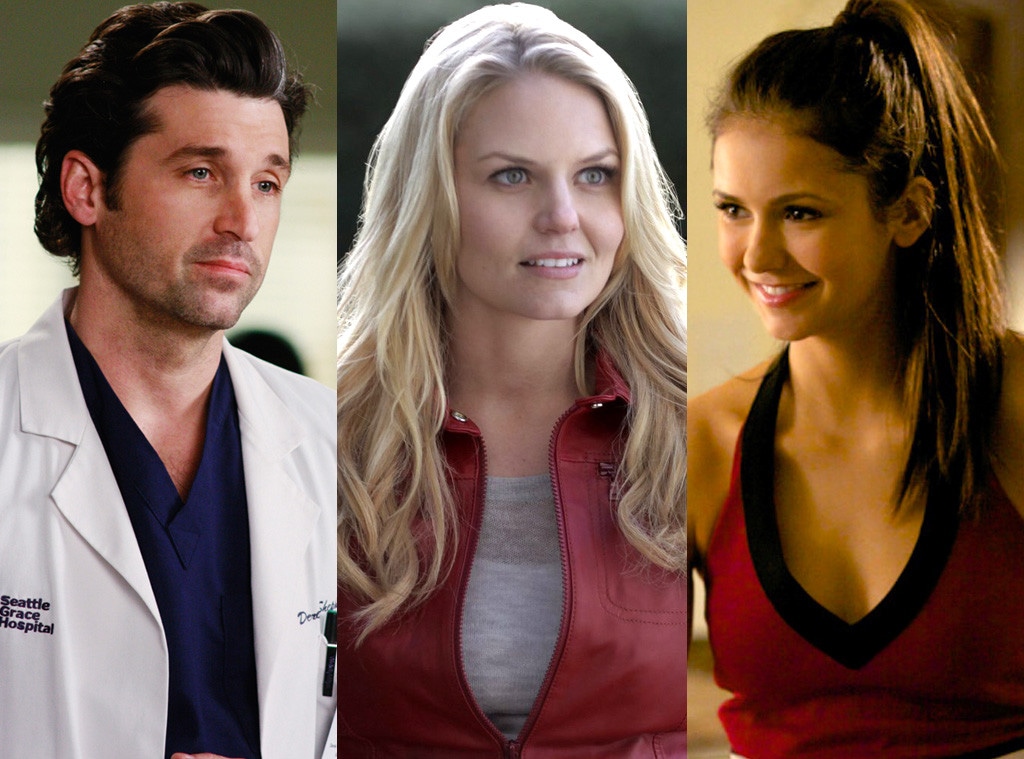 ABC, CW
Happy premiere week, y'all! (Sorry, we've been watching too much Blake Shelton.)
Yes, fall TV is offiicially now in full swing, it's the first day of fall, and we have your weekly roundup of exclusive scoop, as we answer all your burning TV questions. 
Read on for all the goods! 
Erik: In desperate need of The Mindy Project spoilers!
Someone will say I love you in tonight's episode. Boom. And just know Rhea Perlman crushes it as Danny's momma. 
Lauren K.: So excited for The Vampire Diaries to come back, but bummed that I won't be able to see the Salvatore brothers together. Please tell me there is hope!
Fret not, you will see share Paul and Ian share scenes together…in flashbacks! "There are flashbacks coming up," executive producer Caroline Dries spilled, but choosing not to reveal which year just yet. "But we will see an era we haven't seen before in flashbacks and it will help tie together a bunch of storylines." You can expect to see the Damon and Stefan-centric flashbacks in episode four.
Veronica: I just have one question when it comes to TVD: Enzo!?!?!
Sadly, the premiere is Enzo-less. But don't worry, as he is in episode two and will have major plans when it comes to his BFF Damon, whose death "took a toll on" him, Dries previewed. Aside from the Damon of it all, fans can expect to see more flirty banter between Enzo and Caroline. "We'll continue to have that dynamic between the two," Dries said, before revealing one person Enzo won't be able to charm: Matt Donovan. "They will not be the best of friends," she teased.
Jessica: I keep hearing rumors about The Good Wife and the seven-year plan. Is it ending next season? I don't want to say goodbye to Alicia Florrick!
There IS a seven-year plan, but that doesn't mean the show is ending next season AND there is a plan in place in case the show doesn't get to season seven. Co-creator Robert King told us there is a "plan for seven years, but I don't want to say it ends there because CBS may have other plans." And relax, season six just started. Enjoy it!
Francesca: Please give me something good on Regina or Hook and Swan on Once Upon a TIme!
Regina is going to put through the wringer—big time, at the start of the season, and let's just say she is not giving up on her studly studmuffin Robin. As for Hook and Swan, Emma is avoiding him in the season premiere and, well, there isn't much time for relationship therapy, but they do have at least one LOL exchange.
 
Jo: Callie and Arizona need some happiness this season on Grey's. They're going to get it, right?
Sorry, have you met Shonda Rhimes?! No one is ever really and truly happy on Grey's Anatomy, and Callie and Arizona, though they may be talking about having another kid, are not out of the woods with their relationship issues yet."We left them talking about it and that's where we pick up with them talking about it," Jessica Capshaw tells us. "There's not much more than can happen to them that hasn't happened to them yet, but Shonda can think of something! So far it's been really interesting because so many of the things that I think didn't get dealt with in terms of the core part of their relationship is being dealt with in the beginning of this season. It's up and it's down and it's all around."
Debra: Gimme all the scoop on Parks and Rec's final season!
Jean-Ralphio is in da house! "I've already filmed one episode and I've been told I'll be coming back for more," Ben Schwartz spilled to us.  Three cheers for more Jean-Ralphio, yo! And while he didn't want to spoil anything, Schwartz teased, Something is very different with my character three years in the future."
Tyler D. Rain down on us with some Reign scoop, pretty please!
Oh, we're about to make it rain. (Sorry, we had to.) Executive producer Laurie McCarthy told us to expect a few "surprising pairings" in season two, with newcomer Condé (played by Sean Teale) definitely shaking things up. "Condé doesn't really have a problem being with married women," McCarthy teased. So yeah, Bash and Francis better keep an eye on their wives 'cause Condé is, like, really hot. We're just sayin'!
Christina: Thank you so much for telling me to watch Red Band Society! I loved the premiere so much and can't wait to see more. Please tell me we'll get a lot more of Octavia Spencer though!
Fret not as we will be meeting a family member of Nurse Jackson's a bit later in the season: her niece Sabra, who is a student at NYU and pays her beloved aunt a visit. Hm…wonder which of the Red Band boys she'll hit it off with…that is if Nurse Jackson doesn't squash the blossoming romance like a bug.
Emma: I'll take anything you've got on Arrow.
There's going to be a lot of the S-word in Starling City this year. Which S-word exactly? Sex, baby! "They've amped up the romance," Colton Haynes teased. "It's a little more sexual this year. A lot more new characters, new romances, and also a lot more heart."
Sandra: Please tell me Outlander's Jamie and Claire are about to live happily ever after now that they're married. That's how TV works, right?
Sorry, not quite. Fans of the books will know that the horrors of 18th century highlander life are just beginning, with a certain English captain at the center of it all. The next episode (and the last one before a cruel, cruel hiatus) finds Captain Randall quite unhappy about Claire's strategic marriage to Jamie, and he's not about to let it stop him from doing exactly whatever he wants.So basically, if you're tired of us going on and on about how Captain Jack Randall is the worst, get over it. Because he is, and that's not going to change anytime soon. 
Maggie R: You guys were so right. Red Band Society is amazing and I need more! 
You got it! Get ready to meet the parents - Kara's parents, that is. The introduction of the cheerleader's very type-A mothers felt very Glee season one, in the best way possible. Plus, get ready to do a lot more crying, as medical procedures do not always go as planned. We'll probably say that every week, so just stock up on the tissues now and maybe you'll make it through the rest of the season. 
Tara: It's the final season of Parenthood. I am not ready for this! Please tell me Joel and Julia will get back together before the show ends for good?
Um, Tara, we are with you, girl. We want Parenthood to go on forever! Unfortunately, this is truly going to be the final season of the NBC critical darling, and unfortunately again, when we posed your exact question to Sam Jaeger, he didn't sound too optimistic about Joel and Julia's chances...at least at the start of the season. "There's always a chance for them to get back together," he told us. "And hey, I'd love to report that all of season six is us just sitting around laughing and hugging each other. But there are more conflicts and more outside and inside threats to their relationship. They are just different people now than where the season ended. We certainly don't start where we left off." Pass the kleenex now, we're already crying!
Spoiler Chat is new every Tuesday on E! Online. BOOKMARK THIS PAGE so you can always find it!
Be sure to send in questions via Twitter or Facebook.
TWITTER: Follow @kristindsantos!

—Additional reporting by Tierney Bricker, Chris Harnick and Sydney Bucksbaum