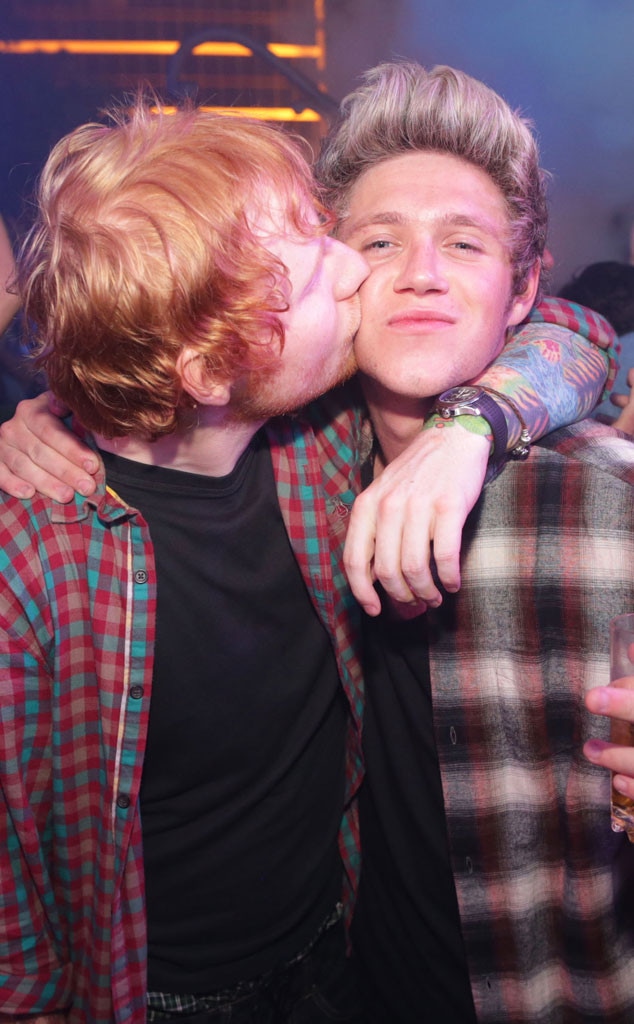 Danny Mahoney/XS LasVegas/Splash
Maybe there's more love between Ed Sheeran and Niall Horan than fans first thought?
After performing at the iHeartRadio Music Festival Saturday night, the "Lego House" singer and One Direction member kept the fun going as they headed to XS nightclub at the Encore resort inside Wynn Las Vegas.
While enjoying the music of David Guetta, Sheeran delivered a giant kiss on Horan's cheek before hopping on the stage to dance. 
"Turn down for ?" Horan tweeted after his busy night out.
The innocent kiss speaks volumes to fans who have wondered how the musicians' relationship stands today. In a recent interview with the Howard Stern Show, Sheeran implied that the One Direction member stole his girlfriend.
After Howard Stern asked if "a dude from One Direction" inspired the hit song "Don't," Sheeran didn't exactly deny it.
"The papers say a lot of things. I have kept my mouth shut about everything," he explained. "I didn't really come out of that situation upset. I was just pissed off. I just thought it was a bit disrespectful."
In the popular song, Sheeran sings about a girl who cheated on him with another dude staying in the same hotel.
"I never intended to be next/ But you didn't need to take him to bed that's all," he sings before the chorus. "And I never saw him as a threat/ Until you disappeared with him to have sex of course/ It's not like we were both on tour/ We were staying on the same f--king hotel floor."
For months, fans have speculated that Horan was indeed the one caught cheating with Sheeran's girl.
As loyal fans know, however, the two singers share a lot of history. In addition to touring together a few years back, Sheeran and Horan have co-written songs together like the hit single, "Little Things."
After admitting to confronting the man in question, Sheeran is showing signs of forgiveness.
"It's a difficult conversation to have," Sheeran told Stern. "He was my mate, so I was just a bit like, 'Um, not cool."