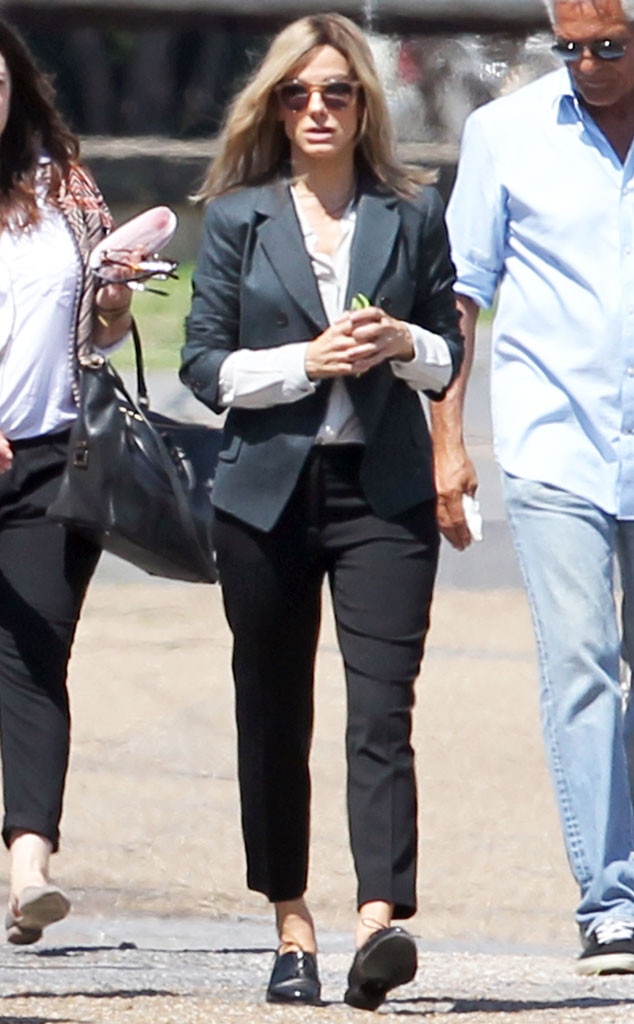 Patriot Pics/FAMEFLYNET
The blonder, the better.
Well, that may not always be the case. But by the looks of it, Sandra Bullock looks pretty good with her newly lightened tresses—although Sandra can pull off pretty much any hair color with ease.
The 50-year-old was spotted on set in New Orleans, Louisiana Monday afternoon sporting a dirty blond look. The actress ditched her naturally dark locks to play the role of a retired American political consultant in the George Clooney-produced comedy Our Brand Is Crisis. 
But this is not the first time that Sandra has lightened up for a movie role. You may recall that she went blond for her Oscar-winning role in The Blind Side in 2009 to play the character of Leigh Anne Tuohy. And that same year, Sandra dyed her hair honey blond for the comedy All About Steve.
Sandra isn't the first celeb with signature dark hair to go blond. Alanis Morissette said goodbye to her dark tresses in favor of a bright blond look last week. And before that, Sophia Bush took the plunge and dyed her hair from brown to blond.
Speaking of going blond, platinum hair is all the rage for fall—surpisingly—this is usually a trend that's big during the summer. But Kaley Cuoco-Sweeting, Zosia Mamet and Lena Dunham have all opted for platinum blond looks.
Now, Sandra can make any look work. But we don't know about you, but we'll always and forever associate the Oscar winner with her trademark dark brown hair.