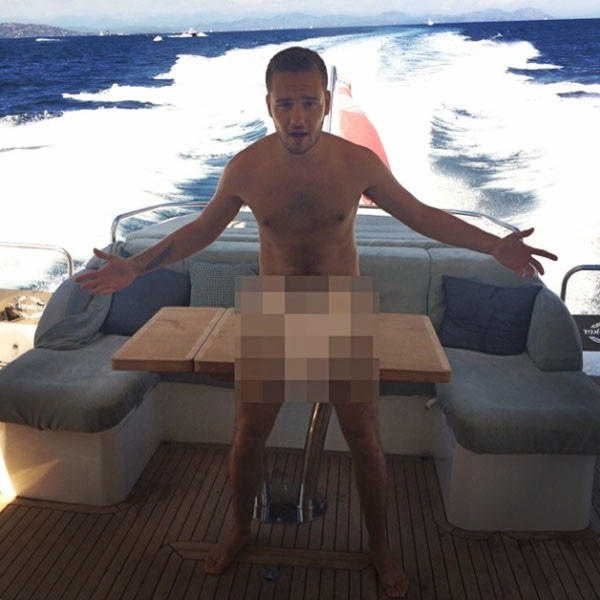 Instagram
Have you seen those pictures of Liam Payne naked in bed with another man?
No, you haven't—they're not real. Fans speculated that the One Direction singer was photographed in the throes of passion with an unidentified male friend over the weekend. The 21-year-old "Fireproof" singer took to Twitter Sunday to dispel the rumors. "Wow as if people think that weird photo going around is actually me lol think id rather tweet a full frontal than have people look at that," he wrote.
Payne took heat for that tweet, as some questioned whether he has a problem with homosexuality. "I'm 100% not homophobic," Payne clarified. "But I'm also 100% not gay so when somebody says I am I'm gunna say I'm not which does not make me a homophobe." A fan lightened the mood, tweeting, "hey you said you're in love with that kfc man." Payne replied, "this is true but I'm only In it for the chicken."
The "Little Things" singer isn't the only 1D member whose sexual orientation has been called into question. In a 2013 British GQ interview, Harry Styles was asked if he was dating DJ and TV host Nick Grimshaw. "Bisexual? Me? I don't think so," the 20-year-old pop star replied. "I'm pretty sure I'm not."
But back to those alleged Payne pictures.
The images in question are not thought to be related to the recent Reddit and 4Chan leaks. Meagan Good, Vanessa Hudgens, Jennifer Lawrence, Hayden Panettiere, Aubrey Plaza, Rihanna, Hope Solo and Gabrielle Union are among the celebrities who were targeted in the latest round of leaked nude photos.
Good said the photos were for her husband, while Union issued a statement to E! News. "While on our family vacation it has come to our attention that our private moments, that were shared and deleted solely between my husband and myself, have been leaked by some vultures," the actress said. "I can't help but to be reminded that since the dawn of time women and children, specifically women of color, have been victimized, and the power over their own bodies taken from them. These atrocities against women and children continue worldwide. For anyone out there also being affected by these and other hacking and hate crimes—We send you our love, support and prayers. We have done nothing wrong."
"While they may have stripped us of our right to privacy, they cannot take our strength, dignity or our voice," the Being Mary Jane star, who married Dwyane Wade in August, added. "Love and light to all."