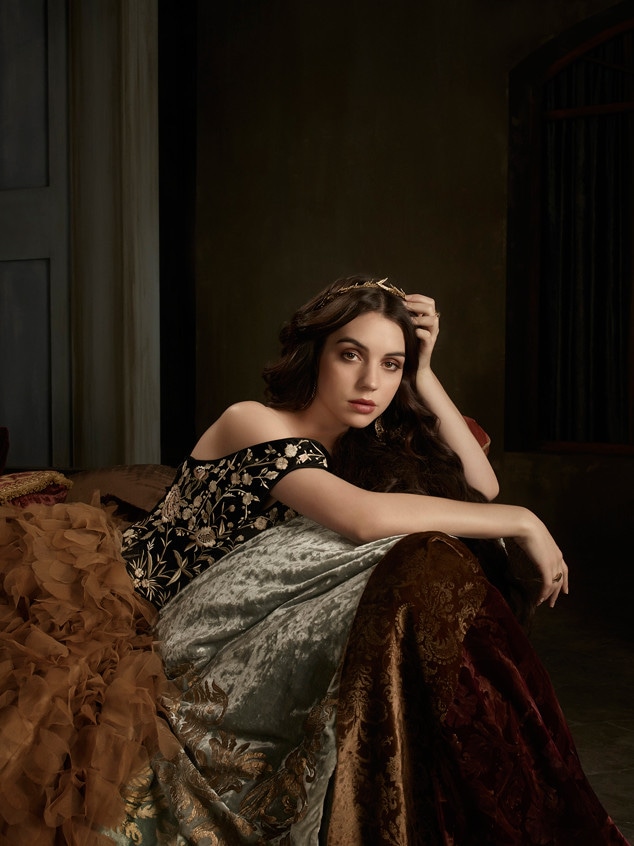 CW
French Court is now in session!
Get ready, royals, as we're just two weeks away from the season two premiere of Reign, one of our favorite new shows from last season. And what better way to celebrate the CW break hit's long-awaited return than with looking at pictures of its oh-so-pretty cast?!
Below, we've got exclusive (and might we add gorgeous?!) new shots of Mary (Adelaide Kane), Francis (Toby Regbo), Bash (Torrance Coombs) and Catherine (Megan Follows), which look like they should be hanging on the walls of a castle or fancy-schmancy museum where you get in trouble for stepping too close to the artwork.
And because we're so obsessed with the fashion on Reign, we got costume designer Meredith Markworth-Pollack, one of the best in the business, to break down each of the four characters; looks in season two and how their new costumes factor into their storylines.
Queen Mary
"Now that Mary is the ruling Queen of France we have heightened her wardrobe even more so from the first season. She is fierce and fearless. We are still playing with her dueling roles of a lover and fighter...mixing the feminine and the warrior in her. I love using beaded fabrics cut in strong lines to appear as her armor. For season two we are adding new elements to show her status as Queen as well as the darker side of Mary we are now seeing. Lots of black and gold fabrics like lace and brocades, with layered details and impressive jewels. Mary embraces her sexuality and is unafraid to flaunt it. I like to keep her in sexy silhouettes like the off the shoulder bodice and corset we shot here for the promo. And of course there will be plenty of eye candy for Mary's new crowns."
King Francis
"Francis has a strong transformation into King. He is constantly having to prove his power. We will see him in a much more regal and formal wardrobe including more capes, furs, and custom doublets. And of course a crown. Photographed here is a custom coat built for him but also made to match Queen Mary. It is very important to keep their wardrobes complimenting each other as they must appear as a team."
Bash
"Once Francis titles Bash to the esteemed King's Deputy, we will see a slight change in his wardrobe. He still wears his leathers and wools while out on the roads, but in the castle Bash presents himself in a more serious manner with brocades and velvets. Here he is wearing a velvet coat and custom vest."
Catherine
"Queen Catherine begins the season in black as she is mourning the death of her husband. But she soon moves on and is back to her antics, we will be seeing her in her staple regal colors of burgundy, gold, and copper. We will be introducing some new jewels and silhouettes for Catherine as she is constantly trying to one-up Mary in the wardrobe department. The gown featured here has an Elizabethan collar with a vintage lace overlay."
Reign returns Thursday, Oct. 2 at 9 p.m. on the CW.