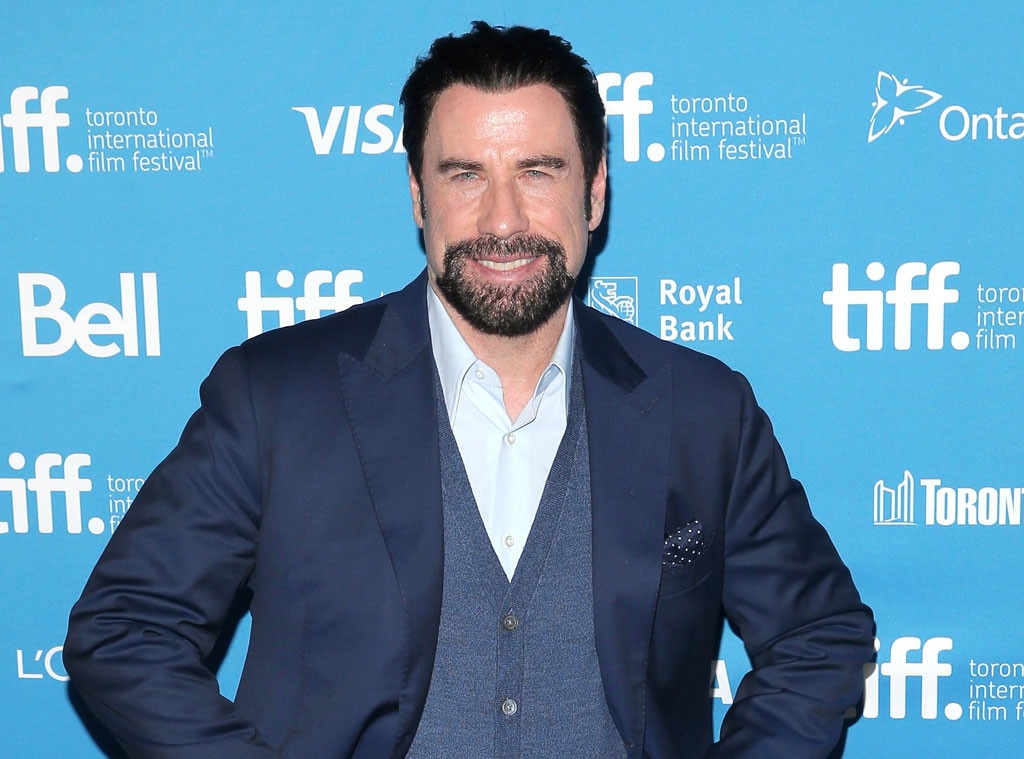 Jemal Countess/Getty Images
John Travolta says a pending lawsuit filed by a former male employee who claims that the two used to be involved romantically is "just about people wanting money."
The 60-year-old Look Who's Talking and Pulp Fiction actor, who has children with wife Kelly Preston, made his comments in a recent interview with The Daily Beast.  Travolta, who is promoting his new movie The Forger, has faced rumors about his sexuality for years.
When asked about this "pending lawsuit from a man who claims to be your former pilot about a romantic relationship," the actor told the outlet, "This is every celebrity's Achilles heel. It's just about people wanting money. That's all. It happens on many levels."
In 2012, a man named Doug Gotterba reportedly told The National Enquirer that he and Travolta were involved romantically while he worked for the actor's aircraft company in the 1980s. He claimed he then received a cease-and-desist letter from the star's attorney telling him that he "breached the confidentiality provision" of a termination agreement he signed when he left the firm. The lawyer had learned Gotterba planned to "publish a book regarding his personal and intimate relationship with Travolta," court records show.
Gotterba sued Travolta, stating in his lawsuit that an unsigned March 1987 termination agreement did not contain such a clause, and that while a document issued the next month did, the original one was the "enforceable" agreement. The actor's lawyer called the suit "ridiculous." Travolta's company maintains the former document was a draft and that the more recent agreement Gotterba signed was legally binding.
This past July, a California appeals court ruled he could challenge the validity of the confidentiality agreement, The Hollywood Reporter reported. 
The Daily Beast stated that as a high-profile figure Travolta appears to be targeted with "these types of allegations" more than others.
"Also, I don't care that much about it," he responded. "Other people may attack it back more than I do, but I let all the media stuff go a long time ago because I can't control it. I think that's why it persists, to some degree."
"I found it most offensive with the loss of my son," he added, referring to the death of his and Preston's son Jett, who died at age 16 in 2009. "I felt like that was the lowest I'd ever felt. Sex stuff is always going to be interesting to somebody, but you stay away from family. You really should. With that, I always felt like the media—not all of the media, but parts of it—went too low there." 
In 2012, two male masseurs sued Travolta, claiming he touched them inappropriately. His lawyer denied the allegations. A former cruise ship worker also sued the actor, claiming he sexually propositioned him. Travolta's lawyer called it "another ridiculous claim by someone hopping on the bandwagon to get his 15 minutes of fame." All the cases have since been dropped.
Also in 2012, Travolta's Look Who's Talking film series co-star Kirstie Alley told Barbara Walters, in response to rumors about the actor's sexuality, "I know John with all my heart and soul; he's not gay."