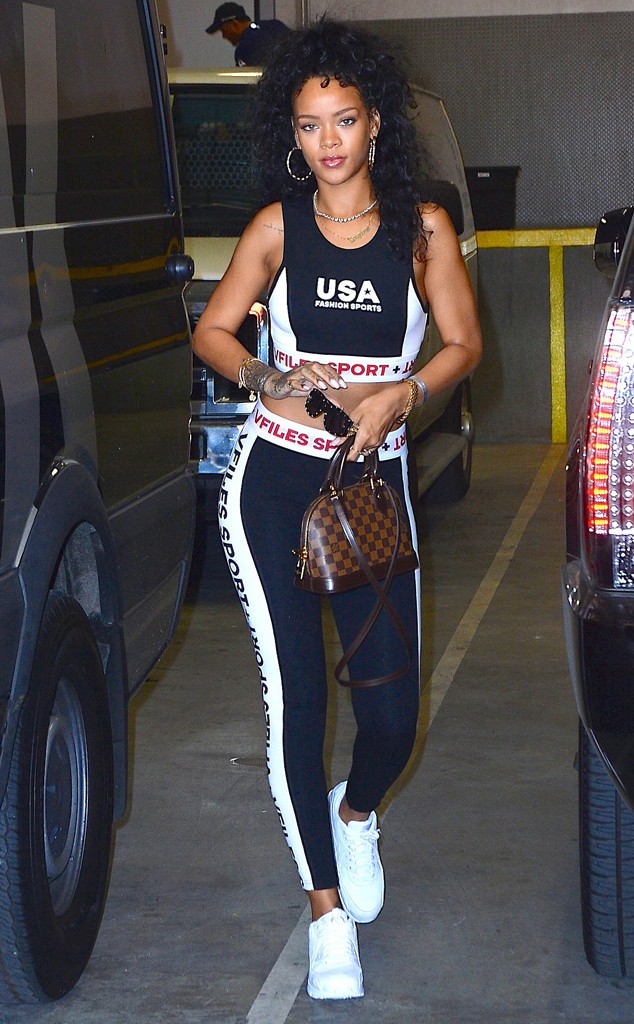 247PapsTV/Splash News
UPDATE: CBS Sports released the following statement to E! News Tuesday: "Beginning this Thursday, we will be moving in a different direction with some elements of our Thursday Night Football open. We will be using our newly created Thursday Night Football theme music to open our game broadcast."
A rep for Rihanna's label Roc Nation told E! News: "Due to the misuse and misrepresentation of Rihanna's name and participation in connection to CBS' TNF, CBS was not allowed to license and utilize the song 'Run This Town.'  Roc Nation made the decision to not grant the song's usage."
______
Last week CBS pulled Rihanna's theme song from its Thursday Night Football lineup amid the Ray Rice domestic abuse scandal, and now, the singer is firing back on Twitter.
"CBS you pulled my song last week, now you wanna slide it back in this Thursday?" wrote the 26-year-old star, who was involved in a very public domestic violence dispute with ex-boyfriend Chris Brown back in 2009. "NO, F--k you! Y'all are sad for penalizing me for this."
In another, seemingly related tweet, she wrote simply, 'The audacity..."
Rihanna, of course, is referring to the release of a video showing former Baltimore Ravens star Rice brutally punching his wife Janay Palmer, which led to the termination of his team contract and an indefinite suspension from the NFL.
Per Sports Illustrated, CBS also pulled Rihanna and Jay Z's hit song "Run This Town," which was scheduled to play before last Thursday night's kickoff, in the wake of the Rice video release.
CBS Sports chairman Sean McManus told SI.com: "It's important to realize we are not overacting to this story but it is as big a story as has faced the NFL...We thought journalistically and from a tone standpoint, we needed to have the appropriate tone and coverage. A lot of the production elements we wanted in the show are being eliminated because of time or tone."
CBS did not immediately get back to E! News' request for comment and confirmation of whether the Rihanna theme will debut this week on Thursday Night Football.
For more information on domestic abuse or to get help for yourself or someone you love, visit the website for The National Domestic Violence Hotline or call 1-800-799-7233.
(Originally published Sept. 16, 2014, at 7:42 a.m. PT)