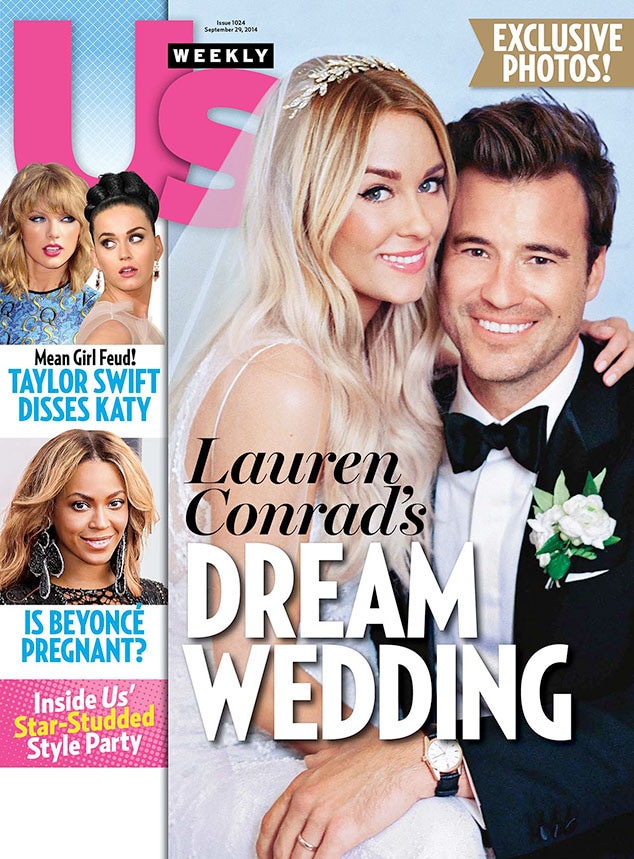 US Weekly
Here comes the bride, all dressed in… Badgley Mischka!
As revealed on Us Weekly's cover on Wednesday, Lauren Conrad chose a custom gown by American designers Mark Badgley and James Mischka when she married William Tell over the weekend.
And according to the designer duo, the 28-year-old took a very hands-on approach in the gown's creation; in fact one might even call her co-designer. "She was involved in the process the whole way," Badgley told the magazine. "She had a really clear notion," he added. "And she stuck to her guns."
Although the former MTV reality star—who changed into a Monique Lhuillier dress for the reception—would fly to New York City to meet with the designers every few months, some of her fittings took place at her Beverly Hills condo. It was at one of these meetings that she decided to ditch the sleeves on her dress. "I felt like I couldn't pull them off," she explains in the issue. "I don't have super long arms." She joked that when the Badgley Mischka tailor was hesitant she threatened to take matters into her own hands. "I was like, 'Sir, if you don't cut them off, I'm going to use my kitchen scissors and cut them.'" Not to worry, it didn't come down to that!
In the end, Conrad walked down the aisle in a two-tone Chanitlly and Alençon lace dress with crystals, pearls and baby glass beads. Oh, and did we mention the 10-foot train?!
According to Us, Conrad summed up her gown with three words: Glamorous. Classic. Simple.
And we have to agree.