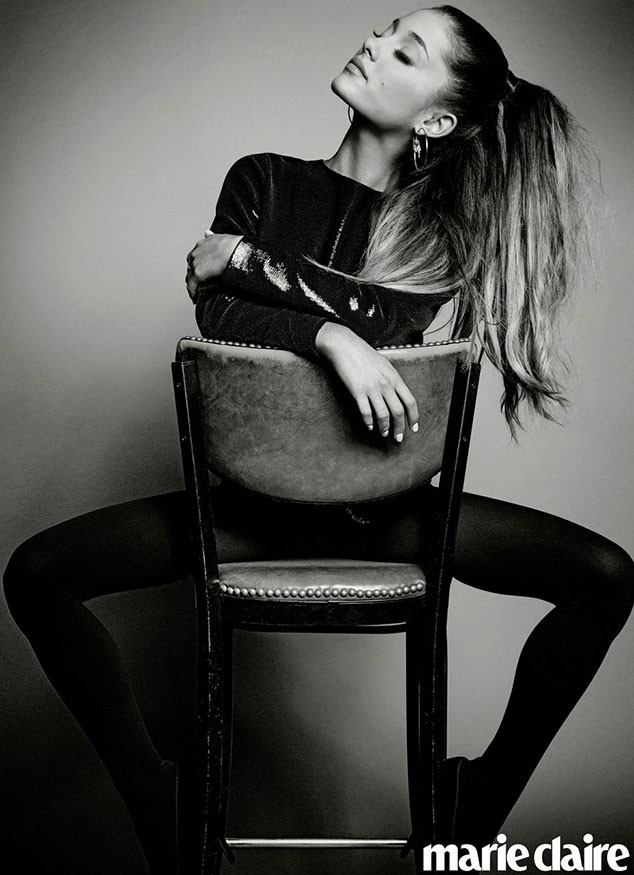 Tesh/Marie Claire
Sometimes you hit a few bumps on the road to romance—just ask Ariana Grande!
The 21-year-old "Bang Bang" singer actually got in her first car accident en route to see Big Sean!
So what happened? "I was driving to Big Sean's house on those windy hills in L.A," she tells Marie Claire's October issue. "It was my first time going up those hills so I was going like 12 miles per hour. This lady was whipping around the corner, and I came to a complete stop so she bumped me really hard—the whole front of my Range Rover was wrecked."
"She jumped out and was like, 'Sweetie, it's okay, it's totally fine. What do you do?' I was like, 'I'm a singer,'" she recalls, "And she was like, 'Oh, I think I broke my leg.' And I was like, 'I mean, I make jewelry.'"
The former Sam & Cat star also tells Marie Claire about the need for there "to be a really distinct difference between me and my character."
"And we did that with 'The Way,'" she says. "I dyed my hair back to brown. I made out with a rapper in the video. I made the point I wanted to make. And I was excited to do so after so many years of pretending to be somebody else in front of a lot of people."
And while Ariana admits she "used to pretend to be a little more like her [Sam & Cat character] than I actually was," she's really been quite mature from a young age.
In fact, she says when she "was 14 years old and ready to make an R&B album," she "wrote this song called 'Higher,' and the lyrics were too sexual, too mature. And my mom was like, 'This is a great song, but damn, you're too young for this.'"
Remember, too, Ariana's mom was afraid she might "grow up to be a serial killer"!