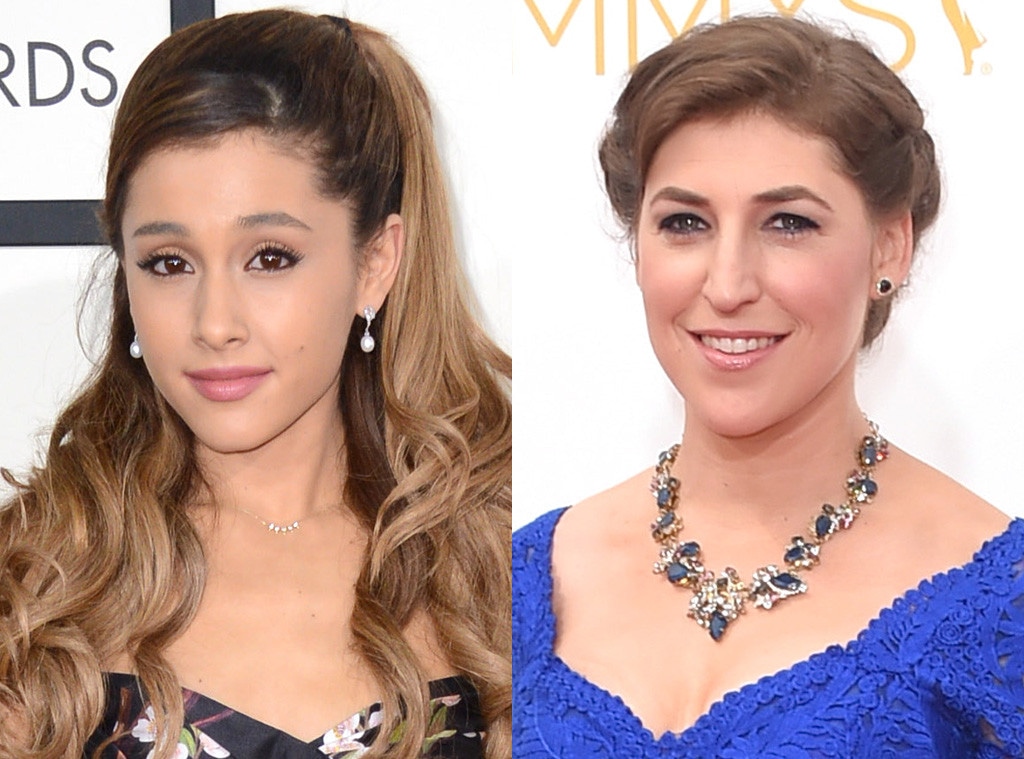 Getty Images
While Mayim Bialik may not be familiar with Ariana Grande's latest album, the 21-year-old singer's sexy billboards, in which she's clad in lingerie, have certainly caught the Big Bang Theory star's attention. 
The 38-year-old actress—who is a mother to two sons, Miles, 8 and Frederick, 5—took to her blog on Kveller.com to air her grievances with regards to the racy celebrity advertisements that are omnipresent in our society today. The lengthy post, appropriately titled "The Problem With That Giant Billboard of Ariana Grande," addresses what she sees as the oversexualized nature of the advertising industry, particularly when it comes to Hollywood. 
After describing herself as a "bleeding heart liberal without exception" but also an "old-fashioned" woman, Bialik admitted to recently seeing many billboards that have left a bad taste in her mouth. 
"There is one for Ariana Grande, and I will go ahead and admit I have no idea who she is or what she does," she began in the lengthy post. "Based on the billboard, she sells lingerie. Or stiletto heels. Or plastic surgery because every woman over 22 wishes she has that body, I'm sure. Why is she in her underwear on this billboard though? And if she has a talent (is she a singer?), then why does she have to sell herself in lingerie?" 
She added: "I mean, I know that society is patriarchal and women are expected to be sexy and sexually available no matter what we do in society, but I guess now I need to explain that to my sons?" 
As for Bialik's next target? Well, we suggest you look away Michael Sheen. 
"Then there are the Masters of Sex ads. Seriously? How am I supposed to explain those to my kids? Especially my older son who can read?" she wrote. 
The erstwhile Blossom star, who is no stranger to her own criticism, also took aim at the fashion industry, slamming the nearly-naked pics that often appear in high-style campaigns. 
"And while I'm having an old lady moment, what's up with those ads for Levi's jeans where it's basically people groping each other as foreplay and undressing each other while making out?" she said. "Just tearing those jeans off of each other's bodies like it's the last day to repopulate the earth. I saw this ad when I went to see the latest Planet of the Apes movie a month or so ago and I thought to myself, 'I don't want my kids seeing this ad if they come to the movies.' I just don't want them to see this ad.
"There's also some billboard for a new show about teenagers in school or something," she continued. "And one of the girls depicted is I guess the 'mean girl' and she is flipping the bird in her poster. She's clearly a young teenager, but I'm wondering why I need her giving the finger in this ad.
While many may not agree with Bialik's beliefs, the "bleeding heart liberal" is more than willing to take ownership of her traditional values. 
Ernesto Distefano/Getty Images
"Am I a crotchety old lady? I guess so," she confessed. "But I just don't understand why this is what ads need to look like. What good does it do for humanity or society? Why do I have to be OK with young women literally in lingerie on gigantic billboards? If I want to see women in lingerie, I can walk through any mall with a Victoria's Secret," adding, "Which, by the way, is a misnomer because there is nothing secret about what's being sold at Victoria's Secret."
She concluded by writing, "You know what I think the secret is? The secret is that when there is no camera around, Victoria probably likes a cozy robe, a cup of tea, and Jean-Paul Sartre's autobiography. OK, maybe that's just me, but still. Just sayin'."
What do you think of Bialik's blog post? Tell us in the comments!