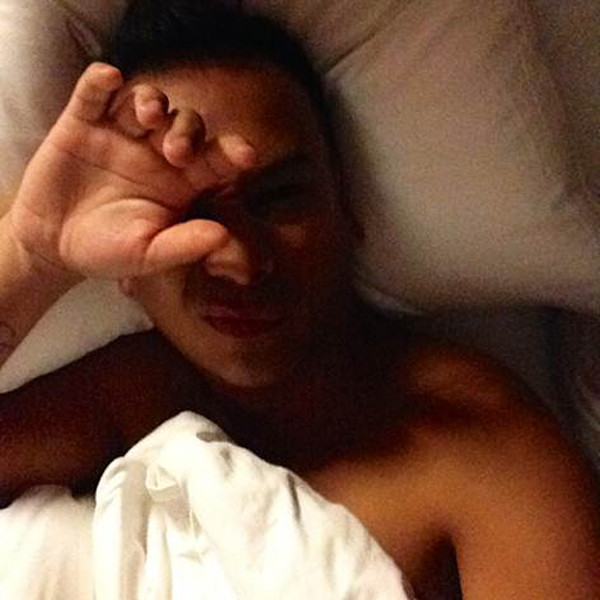 6:00 a.m. BUZZ, BUZZ, BUZZ! Alarm goes off and yes I woke up like this! No really I did.
6:15 a.m. The realization that you are on east coast time and you've really got to get up this time. 
6:20 a.m.- 7:00 a.m. Unpack and prep outfits for the day. Yes, it's the stylist in me to prep outfits for a busy, fun, fashion-filled day. Please note if you're ever headed to #NYFW always pack a strong shoe game. Meet my fashion week soul mates Louis, Tom and Christian!
7:00 a.m.- 7:30 a.m. A quick and hearty breakfast in bed.
7:30 a.m.- 8:30 a.m. Time to hit the shower, shave and run a comb through my hair.
8:45 a.m.- 9:00 a.m. A quick walk over to Lincoln Center. Look I've made it! But I can't bask in the glow of my Marc Jacobs outfit for too long because I was invited to head backstage before the BCBG runway show. 
9:00 a.m.- 9:30 a.m. Check in backstage at the BCBG show and I get to runaround in what I like to call a models safari. Models in their natural habitat!
9:35 a.m. Backstage I see a model's card and she has the same name as one of my pups. This makes me miss home already.
 9:40 a.m. Before the models hit the runway, take a look at this inspiring message from designers Max and Lubov Azria.
9:45 a.m. Time to take my seat, and WHOA that's a really long runway.
10:00 a.m.- 11:00 a.m. It's Showtime! The BCBG collection was filled with pastels, whites and something for everyone at every age. It's beautiful light with hints of California cool.
11:15 a.m.- 12:00 p.m. Ran into my fabulous friend blogger Kelly Lee of KellyGoLightly.com outside of Lincoln Center. We had some time for some fashionable chit chat but that jumpsuit though....MEOW!
12:00 p.m.- 12:30 p.m. Headed over to my friend Jonathan Adler's office to visit his fantasy factory. As a self-proclaimed design nerd this was a major to-do, and I invited my friend Kelly to come along for the ride since we are both Jonathan Adler super fans. Plus, he has a fun and whimsical men's and women's accessory line perfect for fashion week.
12:30 p.m.- 1:30 p.m. A tour of JA's office. The amazing wonderland where he throws down all of his creations. 
1:30 p.m. Then this happened #deadglamming with Jonathan and Kelly!
 1:30 p.m.- 2:00 p.m. Headed back to my hotel room for a quick wardrobe change before the Desigual runway show. Check out that flamingo on my shirt; it's Palm Springs perfect!
2:15 p.m. A quick walk from my hotel to Lincoln Center to watch supermodel Adriana Lima walk the Desigual runway, but first I was invited backstage to see where it all goes down.
2:30 p.m. Checked in backstage at the Desigual runway show, by this time I'm exhausted and jet lag is getting to me. It also looks like this model is tired too. #ModelBreak
2:40 p.m. Loving the beauty backstage, it's all very Latin inspired, happy and celebratory. I like to call this look piñata couture.
2:45 p.m. Hurry the show is about to begin in 15 minute, but first they have to get the model lineup correct.
3:00 p.m.- 4:00 p.m. The Desigual show begins and wow do they know how to put on a show! The collection was colorful, playful and stuck to its Latin roots. Oh, and Adriana Lima isn't bad looking either. Look! There she is... hey girl hey!
4:00 p.m.- 4:30 p.m. Grabbed a cab and headed over to the Tallia Orange showroom.
4:35 p.m. A little late but I made to the Tallia Orange showroom. As a stylist, I work closely with Tallia to style my partner and E! television personality Ross Mathews. Ever wonder where Ross' red carpet looks come from? Well, now you know! 
5:30 p.m.- 6:30 p.m. Headed back to my hotel room for a quick dinner break before I head out to a special party this evening. #Carbs&Champs
6:45 p.m. #ShoeChange As I head over to Vogue's VIP opening of their runway retreat. Yes, I said Vogue as in the iconic magazine. No big deal. #VERYBIGDEAL
7:00 p.m.- 8:00 p.m. I have arrived and I'm so grateful! Cheers, thank you and goodnight! #StayinVogue