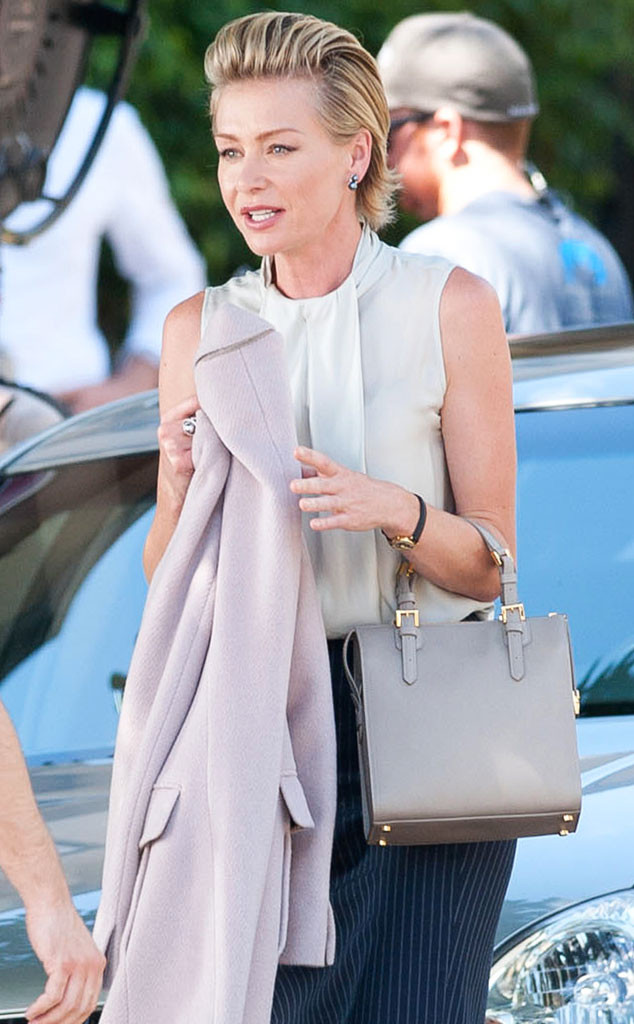 GONZALO/Bauer-Griffin/GC Images
Make way! Political powerhouse Portia de Rossi is coming through. The Arrested Development and Ally McBeal veteran is set to guest star in a top-secret arc during season four of Scandal and we've got your first look of her in character.
De Rossi was spotted filming in L.A. on the street with a mystery man who looks an awfully lot like Mistresses and Teen Wolf star Matthew Del Negro. Details on her role are being kept under wraps—as are most things Scandal. Last season featured Lisa Kudrow in an extended arc as a presidential candidate with whom Olivia Pope (Kerry Washington) works with.
GONZALO/Bauer-Griffin/GC Images
De Rossi's role was announced on Twitter by Ellen DeGeneres. Her other credits include Better Off Ted and Nip/Tuck.
Shonda Rhimes takes over Thursdays on ABC with the new seasons of Grey's Anatomy and Scandal and the new legal drama How To Get Away With Murder. Viola Davis stars in Murder, which will take the 10 p.m. slot, pushing Scandal to 9 p.m. To celebrate Shondaland Thursdays, or TGIT (Thank God it's Thursday), BuzzFeed presented a chat with the three leading ladies of Shondaland: Davis, Ellen Pompeo and Washington. During the panel, the ladies talked spoilers and sex scenes.
"It's freeing to play a character who is messy and fully human, who has big feelings and a big life," Washington said. "So the fact that my character has such a sense of passion is exciting as an actor. It's thrilling to figure that stuff out and take those kinds of risks."
Scandal, Grey's Anatomy and How to Get Away With Murder premiere Sept. 25 on ABC.