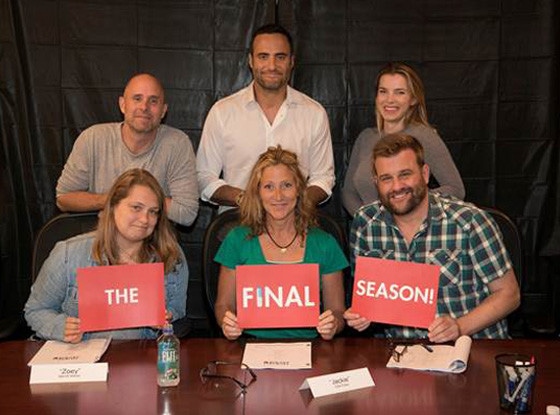 Showtime
Showtime is calling time of death on Nurse Jackie.
The network and studio announced that the upcoming seventh season will also be the series' final season.
"It is with great sadness and pride that we and Showtime bid farewell to such an outstanding series like Nurse Jackie, its stellar cast led by the incomparable Edie Falco, brilliant producing team led by Clyde Phillips and Richie Jackson, and the entire Nurse Jackie family of craftspeople and artists that bring this show to rapt audiences year after year," Lionsgate Television chairman Kevin Beggs said in a statement. "We consider ourselves lucky to have been part of the Nurse Jackie story and look forward to an unforgettable final season." 
Nurse Jackie premiered in 2009, and over the past six seasons the show has won several Emmy Awards, a Humanitas Prize, an AFI Award for "Outstanding Television Program" and several Prism Awards for its depiction of substance abuse, and allowed Falco to become the only actress to ever win the lead acting Emmy Awards in both comedy and drama, and the most nominated television performer in Screen Actors Guild Awards history.
"Edie is one of our finest actresses," Showtime president David Nevins said in a statement. "We are so honored to have had her on the network. She creates indelible characters and Nurse Jackie Peyton is no exception. I know this final season will bring her story to a close that will satisfy the ever-growing number of loyal viewers who have been entranced and, at times, appalled by Jackie through the years. I want to thank Edie, the incredible cast of Nurse Jackie and Clyde Phillips and Richie Jackson who have led the show to the success that it is today."
Nurse Jackie was renewed for the seventh and now final season back in March, but along with the renewal came news of a casting shakeup. Peter Facinelli will not return to the cable series as a regular but E! News has confirmed he will appear in some capacity. "In the twilight of season six, Peter asked to be released from his contract to pursue new creative challenges. Nothing will eclipse the incredible contribution he made to the success of Nurse Jackie since the dawn of the show," Phillips said in a statement, making several puns about Facinelli's Twilight film series work.
Nurse Jackie also stars Merritt Wever, Paul Schulze, Anna Deavere Smith, Stephen Wallem, Betty Gilpin, MacKenzie Aladjem, Ruby Jerins, Adam Ferrara and Dominic Fumusa, and begins production this week on the final season.