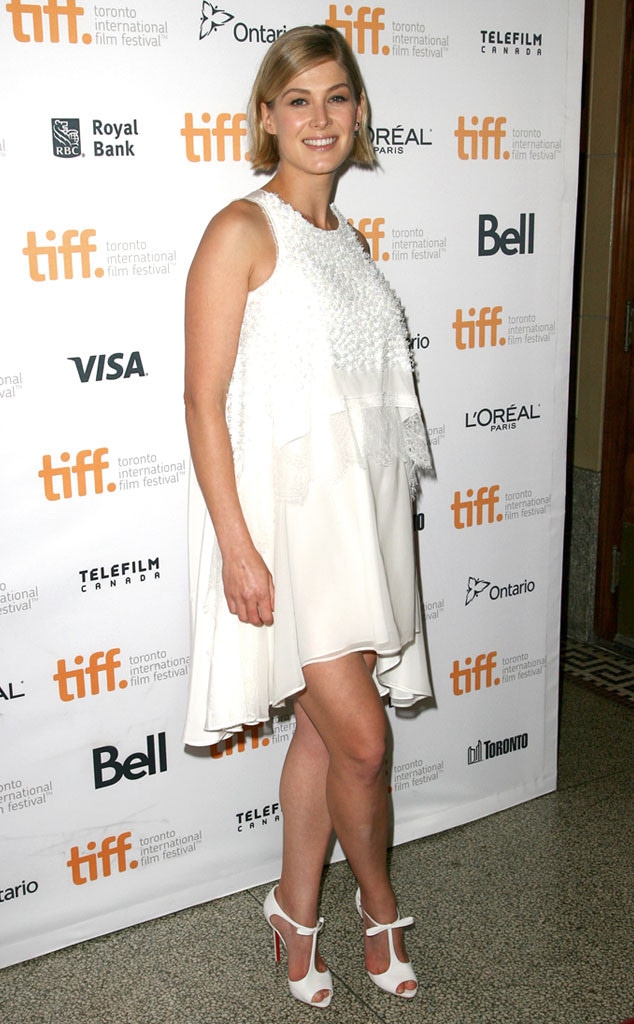 Tommaso Boddi/Getty Images
Whether director David Fincher changed the ending of Gone Girl for his movie adaptation of the best selling novel, it doesn't matter right now because we can't wait to see the final product.
"We gotta preserve some surprises," Rosamund Pike, who stars as Amy Dunne in the film, said when asked about rumors of a new ending at the Toronto International Film Festival premiere of her indie Hector and the Search for Happiness.
"That's all my job is at the moment: preserving the surprises and making sure that people who are going to the cinema are the ones who get to experience it."
And the pressure is on!
"It's so exciting that everybody is so aware of [the movie]," Pike said. "I've never really been part of a project that has so much tangible awareness. It's very exciting."
"I just hope that we keep the fans of the book happy right now," she said. "That's all I'm focusing on."
Pike also recently admitted in the new issue of Glamour that portraying Amy made her "uneasy" at times.
"The most interesting thing is, my reaction was to laugh, to get sort of uncontrollable giggles," she said. "That was the most curious part of playing her: At the point where she's at her most powerful, it unnerved something in me."
Gone Girl is in theaters on Oct. 3.
PS: Pike looked incredibly gorgeous at the TIFF premiere. Pregnant with her and partner Robie Uniacke's second child (E! News broke the happy news back in June), Pike sparkled in a flowy white baby doll dress.
Make sure to check out the video below to find out what Pike told us about working with Ben Affleck.
Watch:
Rosamund Pike Hopes "Gone Girl" Lives Up to Expectations