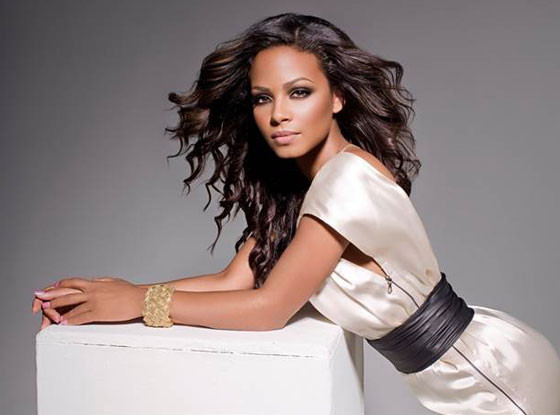 E!
Christina Milian has some exciting news! She will be starring in Christina Milian Turned Up (WT), a brand new E! docu series that will follow the Grammy-nominated singer and actress's career, love life and personal relationships!
We caught up with Christina in New York to get a behind-the-scenes look at what she has planned for Fashion Week, in addition to getting the scoop on her new show!
"It's great to come here every year and see the upcoming styles," she said. "I'm doing a little research because I'm working on my music, finishing up my album with Young Money, and I'm delving into the fashion side of things because music inspires fashion and fashion inspires music, so what better place to be than New York? I'm going to a bunch of fashion shows like Betsey Johnson and I'm attending a few parties. In New York you just kind of go with the flow. I'm going to be everywhere all at the same time!"
Christina is extremely excited for her new series, which will offer viewers a personal look at the singer's daily life for the very first time.
"Deep inside I always felt something like this was gonna happen," she explained. "Kind of just letting people get to know me personally so that's the biggest thing—letting your guard down and letting people in, but that's the exciting part because I felt that for so many years I've been in the business and people have seen me do different things from hosting and music videos to acting in films, but I think this is the first time in regards to music. Music kind of channels into real life and for me this time around, I feel that all the music I'm doing and writing channels to exactly what is happening at this very moment, so the fact that I have it all captured on film and it will be on TV is pretty exciting. It's those little things like making sure that I'm myself so everyone can see and they'll get it and I'll show them what they don't know."

The singer's loud and loving Cuban-American family will also be featured on the show, including her mother and manager Carmen, and her two sisters, Danielle and Liz.
"I think my life is relatable to other women," Christina pointed out. "Young mothers, young women, especially with this show. It has to do with not only myself but my sisters and my mom and our working relationship. It's for women that are constantly grinding but we have passion for family, we laugh hard, we yell hard. We might be a little bit more passionate because we are Latino, and we are Cuban so we can be fiery sometimes. One second we can be arguing and the next we're giving each other hugs and laughing. Family has pretty much been the drive for us."
Viewers can also look forward to seeing Christina's daughter Violet on the show—lots of her!
"Motherhood is great," the singer exclaimed. "I love my baby. My daughter is amazing. She's got lots of character and she's a great kid. She makes life easy for me and she's so understanding and smart. She's all over the show!"
In addition to her music, fans will also get to see the other ventures that Christina has her hands in, including her own wine company!
"I just bought my company, Viva Diva Wines," she said. "So my mom and I have a partnership on that and are relaunching the company. I have my album that I'm working on which includes some songs with Lil Wayne, and I have an animated project for young kids called Shelby Star. It's a musical animated project. And those are just a few of the projects that you'll see on the show. There's a lot more and more stuff will pop up that's unexpected."
Tune-in to Christina Milian Turned Up (WT), premiering on E! in early 2015!
—Reporting by Kamala KIrk and Jeffrey Wisenbaugh