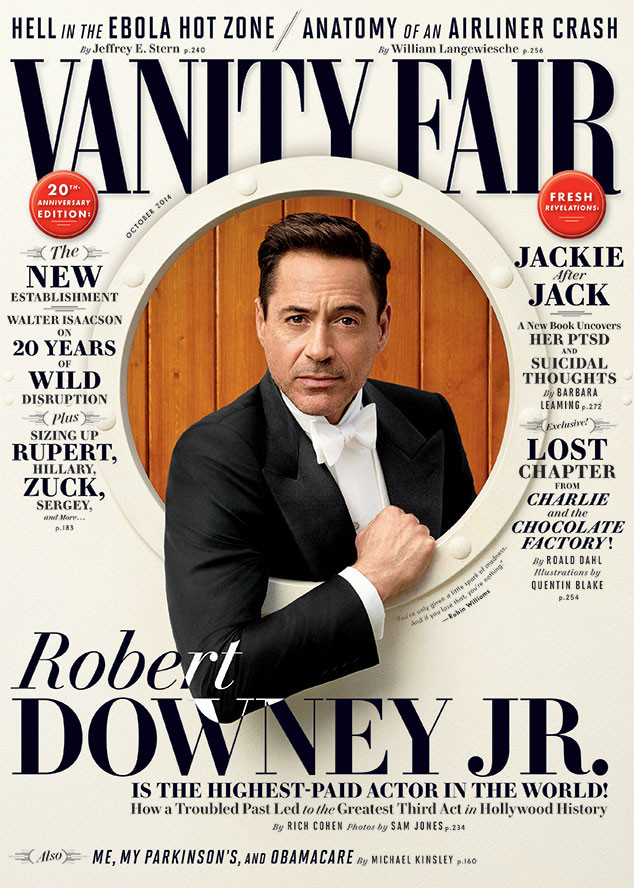 Sam Jones exclusively for Vanity Fair.
People love a comeback story, but Robert Downey Jr. is much more than that.
The actor covers Vanity Fair's October 2014 issue and opens up about his past struggles with drugs. Downey began getting high as a kid and continued to do so after making it big in Hollywood. In 1996, when he was stopped for speeding, police searched his car and found heroin, cocaine and crack cocaine, in addition to an unloaded .357 Magnum under the passenger seat. Downey was sent to rehab—and broke out—before being sent to a more secure facility, where he escaped yet again. In 1999, he begged a judge not to send him to jail. He was sentence to spend 36 months, but served time just under a year.
In 2000, police responded to an anonymous call and searched Downey's hotel room, where they found cocaine and methamphetamine. The next year, while on parole, the barefoot actor wandered through the streets, was subsequently arrested and checked into rehab. He was fired from Fox's Ally McBeal.
"For some folks it's just a function of age," Downey, 49, says of overcoming personal demons. "It's perfectly normal for people to be obsessive about something for a period of time, then leave it alone."