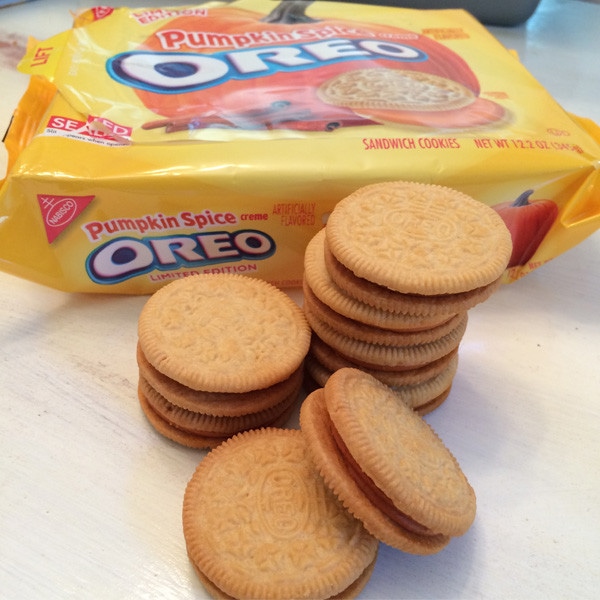 E!
And the pumpkin pandemonium continues!
While it's technically not even fall yet, America has already gone pumpkin-crazy, thanks to Starbucks releasing the Pumpkin Spice Latte early, and a fake Durex pumpkin-spiced condom spurring thousands of tweets.(Sorry, you can't spice up your bedroom that much.)
Joining the pumpkin party? Oreo! Yes, the rumors are true: Pumpkin Spice Oreos are coming soon (Sept. 24, to be exact!) to a supermarket near you, and guess what? We already tried the festive flavor and are already planning on buying as many packages as possible during the short 6-8 weeks they will be available. 
Of course, being obsessed with all things pumpkin spice-flavored, I, TV Scoop Editor Tierney Bricker, had to take this glorious new food to the next level. By making Pumpkin Spice Oreo pumpkin brownies with them. And I'm sharing the super-simple and ridiculously easy recipe (and brutally honest reviews from my coworkers of the cookie and the brownies) with you. 
Ingredients: Check out how easy this recipe is: all you need is a box of brownie mix, a can of pumpkin puree (not to be confused with pumpkin pie filling) and however many Pumpkin Spice Oreos your pumpkin-shaped heart desires. I used eight, and would probably add more in my next batch. (Optional? Pumpkin pie spice, which I generously added to the batter, because, of course.)
Step 1: Preheat your oven to 350 degrees, and line a 9x13 pan with parchment paper. (For thicker brownies, use a 9x9 pan.)
Step 2: Mix brownie mix and canned pumpkin in a large bowl. Add in pumpkin pie spice for some extra pumpkin flavor. 
Step 3: Mix 3/4 of your crushed Pumpkin Spice Oreos into the batter. 
Step 4: Pour batter into the parchment-paper lined pan, smooth out with a spatula. (The best part? Because there's no egg in the batter, you can eat as much of it as you want without the fear of getting sick. I recommend breaking off pieces of Oreos and scooping up batter with them like you would bread with your leftover sauce. Sop that shiz up free of guilt. I never said I was a role model.)
Step 5: Take remaining crushed Pumpkin Spice Oreo bits and top the batter with them, gently pressing down. 
Step 6: Place pan in oven for 25-30 minutes, or until a toothpick comes out clean or with a tiny bit of batter. (My oven was clearly created by the devil as it changes temperatures on any given day. These brownies? Took 15 minutes. See? Devil oven!)
Step 7: Remove brownies from oven and let them cool in the pan for about 30 minutes. 
Step 8: Cut brownies, serve with a scoop of vanilla ice cream. Or store in an air-tight container and force them on your coworkers, but only if they agree to send you a review once they taste them. (You gotta earn your sweets here at E! Online!)
Which is the perfect segue into said E! Online coworkers reviews of the Pumpkin Spice Oreos and the brownies I made with them!
Reviews:

"When I approached this Pumpkin Spice Oreo brownie, I was a little uneasy. After all, Oreo has had some strange flavors in its past: (Peppermint and Shure, Bert Ice Cream flavors – ew!) Neither of these strange concoctions could work even in a recipe. So instead of a frightening experience after sampling one of these cookies via a Brownie recipe, I was delightfully surprised. The pumpkin spice was there, but not too strong. The brownie helped balance out the ultra-sweetness. So, not bad Oreo. And welcome to the Autumn food lineup."
"It's nothing more than an Oreo with orange-dyed filling with an extremely subtle hint of cinnamon that you have to be actively looking for or you'd miss. They should have used cloves if they wanted to give it that authentic pumpkin taste. Or, you know, actual pumpkin. I mean, the brownies were good, because you're awesome at baking, but again, the Oreos in them were just little bursts of extra sweetness, and added zero pumpkin taste. Unsolicited opinion: I'd like to crush these into pumpkin ice cream for fall-inspired cookies 'n cream ice cream."
"These brownies have an amazing texture, and I love that the Pumpkin Spice Oreo flavor isn't too subtle or worse, overwhelming. I would totally serve them after Thanksgiving dinner—my family would go nuts for them."
"I'll admit I'm not the biggest fan of pumpkin but this was good. The pumpkin flavor wasn't overwhelming and the crunch of the actual Oreo cookie is what made it good. I liked it but wouldn't eat an entire pan worth (my like for pumpkin isn't that huge)."
"I love all things pumpkin, so it would be really hard for me to not like pumpkin brownies! I hate when things taste really fake, but the Oreos in these taste almost homemade! They are soo good and you can bet I am buying a box of the Oreos all for myself!"
"I didn't really taste pumpkin when I bit into the cookie. It just had a slight cinnamon aftertaste. Still, it's an Oreo, so it's good. As for the brownies, I liked that they weren't too sweet, like some pumpkin-flavored desserts, thanks to the dark chocolate batter."
As for me, your humble and completely novice (seriously, who uses boxed brownie mix?!) baker? While I wished the pumpkin flavor in the Oreo itself was a bit more pronounced (Perhaps a dash of pumpkin pie spice or using actual pumpkin in the creme filling?), I still devoured these cookies. They are perfect for any fall gathering, and I am already planning on bringing them pumpkin picking with my family. And using them the next time I make blondies. And dunking them in my next Pumpkin Spice Latte.
Yes, I am one of those girls. And I'm proud of it. Merry pumpkin season, people!