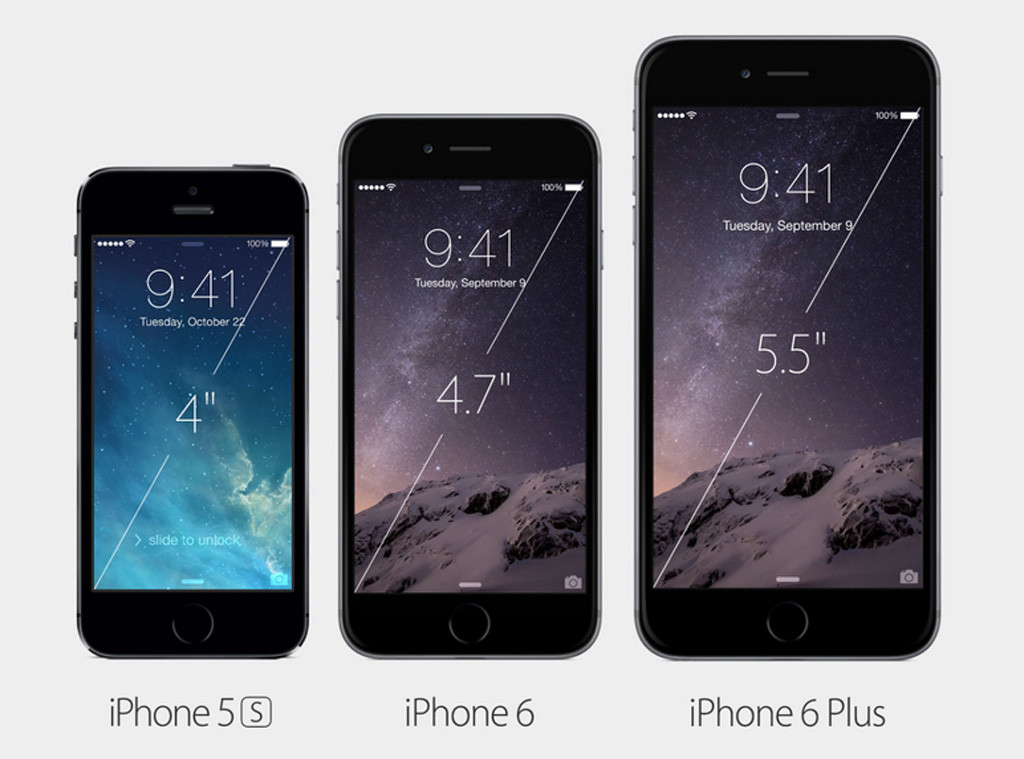 Apple
Apple's worst-kept secret was revealed today: the iPhone 6! And the iPhone 6 Plus! Two new iPhones! What a day to be alive.
You can start pre-ordering the iPhones on Sept. 12, and they will ship on Sept. 19. That's real soon, guys. Gird those loins.
If you didn't get a chance to watch the live stream or are solely depending on us to tell you what you need to know about the new features of the phone, well then that's a lot of pressure on us. But we are here to deliver.
Basically everything you love about your iPhone will just be one thing on the iPhone 6 and 6 plus: better.
Here's the 12 things you absolutely need to know about the iPhone 6, ranked by how important they will be to your everyday life:
12. New cases.
There are new silicon cases for the iPhone 6 and 6 plus leather cases if you are feeling extra fancy!
11. It's thinner than ever.
And curved. That makes it more futuristic? 
10. You can add voice, video, and location to any message
For when you want to brag more efficiently to friends that you are someplace that is much cooler than where they are.
9. The home screen can be horizontal now.
Sorry, vertical home screen. You're old news.
8. The display changes to accommodate your typing.
You know how you can't get your thumb to the top of the screen comfortably? The iPhone screen actually changes with a feature called the "double tape" so your thumbs can cover more ground without those awful texting hand cramps.
7. A predictive keyboard that "learns your conversation style."
Sounds creepy, but apparently this new keyboard will help you answer people according to your texting style.
6. The highest storage you can get is 128GB.
That is actually insane. In a good way.
5. Both phones are bigger than the iPhone 5s.
The iPhone 6 has a 4.7-inch display, while iPhone 6 Plus has a 5.5-inch display. Good news if you like bigger phones. Bad news if you can't fit your current iPhone in your pocket. The iPhone 6 Plus is almost too big, in our opinion. It's an iPad mini, essentially.
4. It has "equal or better battery life on every metric" than the iPhone 5s.
Depending on what you are running on your phone, the battery life will be better or at least equal to Apple's previous iPhone.
3. The camera is better.
Here are the stats: 8MP iSight camera, 1.5µ pixels, ƒ/2.2 aperture, plus an all-new sensor. Or as Apple put it: "That's a nerdy way of saying, we've made the iSight camera a lot better." The new camera will help with anyone with shaky hands and in environments that have low light. Instagram won't know what hit it! And the video function with have a time-lapse feature!
2. Ion-strengthened glass.
Which means a screen that is less likely to shatter into a million pieces!
1. Selfies will be improved on the iPhone 6.
Not only does the camera have improved face detection for selfies and group selfies, but it has something called a "burst mode" where you basically can take up to 10 rapid-fire shots and just pick the best one. No more shoot and delete, shoot and delete until you get the perfect photo.
And finally, the prices:
The iPhone 6 starts at $200 and goes up depending on the storage size and your carrier contract. The iPhone 6 Plus is just 100 bucks more for each model.
Happy iPhone 6 announcement day, everyone!